This guide will teach you how to watch Mexico soccer live, including Liga MX matches, the Mexican national team, Copa Libertadores, and the CONCACAF Champions league. If you know where to look, be it on television or online, there is always a place to watch Mexico soccer live, and I will point out the do's and dont's.
Mexican Soccer on Television
When it comes to watching Mexican soccer on television, you've got plenty of options. The Mexican National Team matches are always televised. You can check them out on either Univision, Unimas, Univision Deportes, Telemundo, Galavision, ESPN 2, ESPN NEWS, etc. Every single Mexican National Team match will be televised, be it a friendly, World Cup qualifier, or anything else.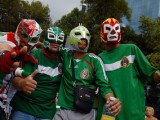 However, if you're searching for Mexican soccer on the internet, it probably means that you're looking for a place to watch live Mexico soccer game. Well, don't worry, I've got you covered with both paid and unpaid online streaming options to watch soccer live.
Mexico Soccer Live Online – Paid Sites
There are plenty of online sites that show mexico soccer live for a subscription fee. The coverage ranges from the Gold Cup, Confederations Cup, CONCACAF Champions league, World Cup, and some Liga MX matches. Although paid sites have the disadvantage of having to pay to use them, they have several pros that make it worth it:
Good Quality Stream

No Ads
Safe website (no virus risks)
Easy to find the games- once you've subscribed to a site you know where to go
Ok, so now you know what mexico soccer live tournaments these paid websites cover and the advantages of using them. Here's a list of some of the paid website:
Fox Soccer 2Go

CONCACAF TV
Watch ESPN
You can download FutnSoccer's free "How to watch Mexico Soccer Live Online" to get more details on pricing, coverage, and benefits of each of these paid sites.
Mexican Soccer Online – Free Sites
After you've searched on television and on the paid sites, and you still haven't found the match you were looking for, there is one more option. You can still watch live Mexican soccer on free websites. There are several benefits to using these free websites:
It's free! Won't cost you a dime.

Every single match will be available, if it's related to Mexican soccer, it will be online
All Liga MX matches are covered
However, it's not all good when looking to watch matches on these free websites:
Streams are usually bad quality, don't expect HD

Lots, and I mean lots of ads. Pop-ups, pop-under, video, etc.
Small risk of getting a virus, given the large amount of ads on these free sites
Are you feeling a little worried? Don't sweat it, simply download FutnSoccer's free "How to watch Mexico Soccer Live Online" guide to get full instructions on where to find these websites, what to do and not to do, and how to find the match you're looking for. Knowing where to find these sites, and how to use them safely is complicated, I highly recommend you download our guide: we provide the safe links to the free sites, and a clear guide on how to use them,
Download the Free "How to Watch Mexico Soccer Live Online" Guide
Our free guide will give you the links to all the places to watch all your games live on the internet, including the paid and free sites. Our guide will also give you a breakdown on how to use each and every site, the pros and cons of each, and focus on the free websites and how to avoid all of the spam you might find there.
Getting our free guide is easy, all you have to do is submit your email below, and a PDF copy of our guide will be sent directly to your inbox. That's it, completely free and easy to get.
If you have any questions just drop a comment below!