The newly revamped Maracana Stadium in Rio de Janeiro will host the Brazil vs England friendly game this Sunday, June 2, 2013 (12:00 PM PST).  This match was in danger of being suspended indefinitely as a judge had considered the stadium to be insecure due to a bureaucratic misunderstanding; missing paper work.  Nonetheless, Brazil and England are ready for what will undoubtedly be an exciting match in one of the world's best soccer atmospheres; oh and yes, next year's world cup final stadium.
The Brazil vs England friendly match will allow Brazil's coach, Luis Felipe Scolari, to prepare for the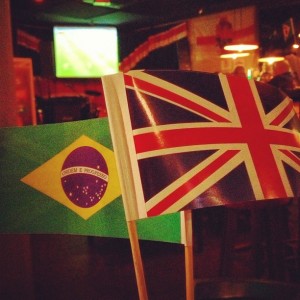 upcoming Confederations Cup which will begin this June 15.  The 'verde-amarelha' has been on a downfall on FIFA rankings as they are at a low 19th place.  On Sunday, they will play in front of over 75,000 fans with the goal of playing dynamically and intelligently against a tough opponent like England.
Importance of the Brazil vs England friendly
Other than the importance of facing a top soccer nation like England, this friendly will serve as a parameter to see how Brazilian stadiums and security will play during the Confederations Cup and next year's World Cup.  There have been indecent incidents in several Brazilian stadiums during international competitions like the Copa Sudamericana and Copa Libertadores during the past year with teams visiting from Argentina and Mexico.  In two occasions military police beat up and threatened the opposing Argentine players with batons and pistols, while most recently Xolos of Tijuana had to practice in the dark as the lights were 'malfunctioning'.
England comes into the friendly in Brazil after tying a poor 1-1  against Ireland during the week.  The team led by coach Roy Hodgson is simply playing a friendly to obtain team progress and identity.  Their next official match will not be until September when they face Moldova for the World Cup Qualifiers.  This match will allow England to get a taste of how the weather and atmosphere will be when, and if they play in next year's World Cup.
Brazil vs England Prediction
The Brazil vs England match will be nothing short of a friendly. These are two soccer nations that have the uttermost respect for each other, therefore they will play this match with the intensity of an official game.  While England is filled with stars like Wayne Rooney, Frank Lampard, and Danny Welbeck, they will not have the pressure to come out with a victory as Brazil.  Neymar's Brazil is on the verge of playing the Confederations Cup which they will host.  They have the obligation to win that tournament, and losing at the historical Maracana days before is not an option.  The Brazil vs England match will end at an exciting 3-1 for the locals.
Brazil vs England Television
The Brazil vs England match will be televised this Sunday, June 2, 2013 on beIN Sport at 12:00 PM Pacific.