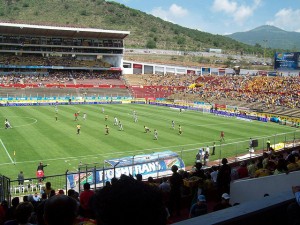 The Morelia vs Cruz Azul Liguilla Quarterfinals Second Leg match will be this Sunday, May 12, 2013 (4:00 PM PST) at the Estadio Morelos.   During the first leg, Cruz Azul won 4-2 in what was a masterpiece by the cementeros.  On Sunday, Monarcas needs to win 2-0, 3-1, or 4-2 to access the semifinals; Cruz Azul are through with a win or a tie.
Monarcas Morelia is on the dying stages of their Clausura 2013.  In order to be in the semifinals, they have no other option than to win by 2 goals, which will be very difficult considering Cruz Azul's current form.  Monarcas lost on Thursday for the first time in 1o matches, therefore I see no way how they could lose two in a row; however, will they have what it takes to win by 2 goals?  Morelia have the league's current best in-form striker, Hector Mancilla, and the top wingers in Jefferson Montero and Joao Rojas.  This offense will need to give it everything in order to have a chance against the cementeros.
Cruz Azul is currently in the best form, and mentality they have been in years.  After winning the Copa MX they have been unstoppable, and they have destroyed all of their adversaries.  Goals come in from every end, and on Sunday, they will attempt to do this again in order to go through.  Their key to victory will be to play with the same intensity as they did in the first leg, otherwise a defensive system will give enough time and room to allow Monarcas to attack and score 2 goals in 90 minutes.
Morelia vs Cruz Azul Prediction
Monarcas has a very difficult task to complete against one of the best teams of the moment.  They have the offensive power to do this, but the midfield may not have enough to control the match.  Cruz Azul has been brilliant, and it is hard to believe this team will not score at least a goal on Sunday.  The Morelia vs Cruz Azul match will end 2-1 in favor of Morelia, but 5-3 in the aggregate; Cruz Azul into the semifinals.
Morelia vs Cruz Azul Television
The Morelia vs Cruz Azul match will be televised this Sunday, May 12, 2013 on Azteca America at 4:00 PM Pacific.