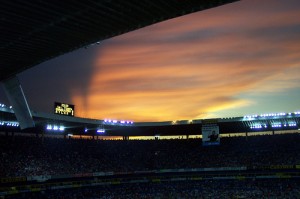 The Atlas vs Santos 2013 Liguilla Quarterfinals Second Leg match will be this Sunday, May 12, 2013 (6:00 PM PST) at the Estadio Jalisco.  During the first leg, these teams tied 0-0 at the Estadio TSM Laguna in a game which was dominated by Santos.  On Sunday, the winner will advance into the Clausura 2013 semifinals, while a 0-0 tie allows Atlas to win, and a tie with any goals gives Santos the pass.
Club Atlas had a difficult match away in the first leg when they tied last Wednesday 0-0.  They were unable to score, and the defense was beaten throughout, however, goalkeeper Miguel Pinto had a wonderful appearance which has Atlas still alive today.  On Sunday they go into their stadium, in front of 60,000 loyal fans who want nothing else than their team passing into the semifinals.  Atlas will go through with a 0-0 or a win.
Santos Laguns has been one of the best all-around teams this season, especially with their dynamic offense.  Last Thursday they were dynamic, however they missed their star forward, Oribe Peralta, and they were unable to score.  Peralta will be out once again for the second leg, therefore someone needs to step up and be that team's offensive leader (i.e. Herculez Gomez?!).  With a goal, Santos forces Atlas to score 2, therefore the scenario looks great for the laguneros.
Atlas vs Santos Prediction
The Atlas vs Santos playoff series will be determined by a single goal, or even the visitor's goal rule.  On the first leg, Santos Laguna dominated, but they got tired of missing.  Atlas will be more offensive in the second leg, but they are a bit weak up-front, and that will cost them.  The second game will also be a close contest, and there will be a tie, 1-1.  The Atlas vs Santos quarterfinals match will end 1-1 which means Santos will go through with the visitor's goal.
Atlas vs Santos Television
The Atlas vs Santos match will be televised this Sunday, May 12, 2013 on Univision Deportes at 6:00 PM Pacific.