The Tigres vs Monterrey Liguilla 2013 second leg quarterfinal match will take place this Saturday, May 11, 2013 (5:00 PM Pacific) at the Estadio Universitario. Monterrey won the first game of this quarterfinal series at home 1-0, giving them a good advantage going into the stadium of the #1 seeded Tigres.
#1 seed, second best defense, second best offense, best visiting team- all of these accolades mean nothing for Tigres if El Tuca Ferreti keeps his players on a leash. Tigres came out in the match against Monterrey looking for the 0-0 draw, they instead got a chupete and came out of the match with a 1-0 loss. The loss can be blamed on no one other than Tuca, who, typical to his style, decided to restrain one of the best teams in the league in the hopes of getting a draw.
CLICK HERE TO VIEW TIGRES' HISTORY IN THE LIGUILLAS
The strategy didn't end up working for Tigres, the team looked asleep most of the match, and could have lost by more goals. A team like Monterrey, which got into the playoffs thanks to a fluke, now has a legitimate chance at advancing for the semifinals. Nonetheless, Tigres has a very realistic shot at eliminating their hated rivals.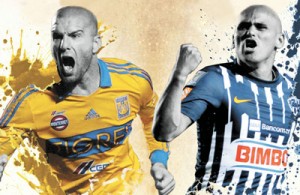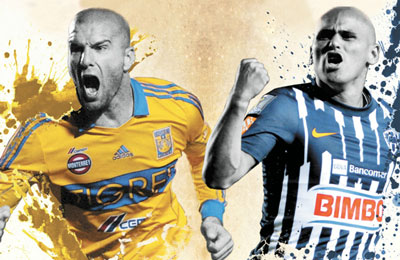 Tigres must win by a score of 1-0, or in case of receiving a goal, by a 2 goal margin. Given that Tigres scored 30 goals in the regular season, it is quite possible for them to get one of the desired results. The question is, will El Tuca come out once again with a defensive posture, risking little in hopes of getting the 1-0 victory, or will he let his players play?
Given Tuca's long history of defensive style coaching, I predict Tigres will come out with a somewhat defensive approach, first maintaining a strong backfield, and then risking little on the attack, hoping for a 1-0 win. This might work, or it might backfire terribly, ending a season prematurely for a team that was long ago anointed as a favorite to win the title.
CLICK HERE TO VIEW MONTERREY'S HISTORY IN THE LIGUILLAS
On their part, Monterrey did what it had to, it took advantage of the boost provided by the home crowd, and went after the #1 seed hoping to earn a definitive win. They got a pretty good result with the 1-0, a win and no away goals given. However, they will have to play a top-notch game at El Volcan, Tigres is a very dangerous team that can turn up the heat at any moment.
Tigres vs Monterrey Liguilla 2013 Prediction
The Tigres vs Monterrey match will be a tight encounter, the result in the first game has forced a conservative style of play for this second leg. Monterrey will not open up, instead hoping to draw Tigres in and attempt to score a counterattacking goal that wins the series. Tigres will retain possession but not go on the attack too much, scared of offering counterattacking opportunities  In a tight encounter, the Tigres vs Monterrey Liguilla match will end in a 1-0 victory for Tigres, giving them the ticket to the semifinals.
Tigres vs Monterrey Liguilla Television
The Tigres vs Monterrey match will be televised on Saturday, May 11, 2013 at 5:00 PM Pacific on Unimas.