The Santos vs Atlas Liguilla 2013 match will take place this Thursday, May 9, 2013 at 5:00 PM Pacific at the TSM in Torreon. This match-up between the #3 seed and the #6 seed should prove to be very close, both teams place an emphasis on defense, and both finished off the regular season with difficulties. Will Atlas move one step closer towards breaking the 50 year title drought?
All season long, Santos was one of the top 4 teams in the Liga MX, and were considered legitimate candidates for the title. However, they finished off the last month heading in to the playoffs in a very disappointing manner, getting 2 losses in a row, and dropping to 6th place. To further aggravate things for the Santos fans, Caixinha and company lost yet another CONCACAF Champions League title to Monterrey. That is, Santos has played 4 matches (2 in Liga MX and 2 in CCL) going in to the playoffs, lost 3 and tied once.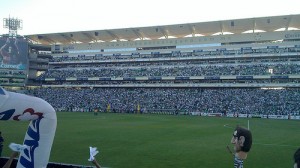 Nonetheless, Santos is still a very talented team that should prove to be an extremely difficult opponent for Atlas. Even though Atlas is the #3 seed, I believe that this quarterfinal series has no favorites, I wouldn't be surprised if Santos wins it. Caixinha has created a team that focuses on defense, and it has worked for them, Santos has only allowed 13 goals in 17 matches, tied for best in the Liga MX.
Who are they tied with, you ask? Well, Atlas of course. Atlas and Santos are tied as the best defenses in the league, and both have scored exactly 20 goals through 17 matches. Both teams also have the exact same home records (6 wins, 1 draw, 2 losses); their only difference is that Atlas was the better visiting team.
When you look at all of their season stats, there are only a few differences between Atlas and Santos, but they are very important. For one, Atlas is the better visiting team, having lost just 1 away game this season. Second, Atlas finished as the #3 seed, and that gives them a slim advantage: they get to close the series at home, and an away goals tie would give them the win. The last important difference, is that Omar Bravo is healthy, and Oribe Peralta is injured and out for the match. Peralta scored 8 goals this season, or about 40% of Santos' offense. His loss will be a huge blow for the home team.
Santos vs Atlas Liguilla 2013 Prediction
The Santos vs Atlas quarterfinal first leg will be a defensive encounter, don't expect either team to risk too much on the attack. Santos is not an offensive team, and will ensure it does not allow an away goal, which could very well prove to eliminate them. Atlas will also want to play back, hoping to earn a 0-0 draw that gives them a big advantage heading back to the Estadio Jalisco. I expect Atlas will get the desired result, a 0-0 draw is my prediction. The absence of Peralta will prove to be too much for this Santos squad.
Santos vs Atlas Liguilla 2013 Television
The Santos vs Atlas match will be televised on Univision Deportes this Thursday, May 9, 2013 at 5:00 PM Pacific.