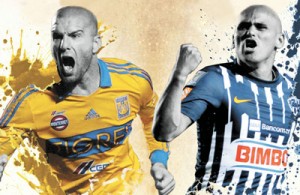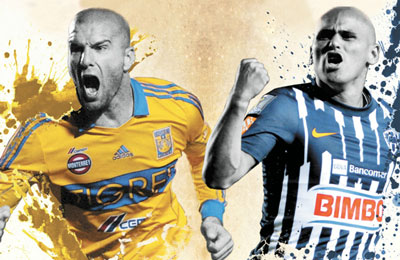 In what will be the most interesting series in the quarterfinals of the Clausura 2013, Monterrey and Tigres face off this Wednesday, May 8, 2013 (8:00 PM EDT) at the Estadio Tecnologico.  The Monterrey vs Tigres 2013 Liga MX quarterfinals match will be a test not only between two great squads, but also between two great groups of fanatics.  In this segment, we will show you what each team's keys to victory are.
C.F. Monterrey
1.  Use the momentum they had two weeks ago when they defeated Tigres 1-0 at the Estadio Universitario during the Clasico Regio.
2.  The 'starting' defense, (bench received 5 goals last week vs Cruz Azul), has only received 2 goals in its past 5 games; if they keep in form, they could cause Tigres' outstanding offense from making any damage.
3.  Strikers Aldo De Nigris and Humberto Suazo must 'click', like they did last week in the CONCACAF Champions League finals which allowed Rayados to score 4 goals.
4.  Rayados needs to take full advantage of their home-stadium and crowd, as winning at home will leave them in great confidence to hold the score when they play at Tigres.
5. One of the most important keys for Monterrey will be its fans;  along with Tigres, they have the most loyal, and loudest fans in Mexico, therefore the stadium could make a difference on Wednesday night.
UANL Tigres
1.  Play like they have played all season long;  this is the Liga MX's top seeded team, and on paper defeating the lowest seed should be no problem.
2.  Forget about the loss in the 'Clasico Regio' of two weeks ago and play the quarterfinals with a fresh mentality.
3.  During the title run of the Apertura 2011, Tigres depended on wingers Damian Alvarez and Dainilinho;  if these players are on their best form, Tigres will be a dynamic offense which also has star scorer Emmanuel Villa.
4.  Score a goal away in the first leg, as the visitor's goals count.
5.  Like Monterrey (and probably better), Tigres has the best fans in the league; these are crucial to supporting their team, and pressuring the rival.
Monterrey vs Tigres Prediction & Television
The Monterrey vs Tigres Quarterfinals series will be an intense chapter in the 'Clasico Regio'.  Sure it is the #1 vs the #8 seed, but Monterrey already defeated Tigres 2 weeks ago, and also Monterrey has been on a great run of late.  However, although it will be close, Tigres is the better team and they will move on into the semifinals.
The Monterrey vs Tigres match will be televised this Wednesday, May 8, 2013 on Univision Deportes at 8:00 PM Eastern.