View the Pumas 0-1 America highlights here.
The Pumas vs America Liguilla 2013 Quarterfinal match will have Pumas host America on Wednesday, May 8, 2013 at Estadio Olimpico Universitario at 7:00 PM PST. This will be the first leg of this two-leg quarterfinal series.
Pumas, trying to change history
Pumas and America have a strong rivalry, this match is considered a big derby in Mexico City and there is no doubt that this match will be a fiery one. Pumas is seeking to change history since America has had the upper hand in their matches in the playoffs.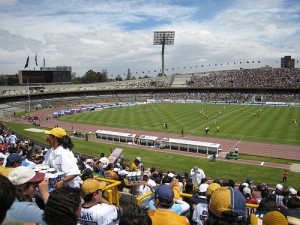 Torres Servin will make use of Javier Cortes and Martin Bravo and with their speed try to bring down America's defense. The motivation that Luis Garcia and Robin Ramirez have gotten in their last two games will also be a key factor, if either is given the chance to play some minutes.
Pumas closed the regular season winning against Atlante, who made an effort to please their fans, but was not enough. Pumas lost in the regular season against America by a score of 1-0 in a tough game.
America, history and numbers in their favor
America had a regular season and seems to be in shape to play Pumas with aspirations of reaching the semifinals, and seek for a title that, since 2005, they have not had in their hands.
Christian Benitez, the best scorer of the season, and Raul Jimenez will seek to put the ball in the net and get the win for America. The Coapa team is motivated and will play hard to reach the next step. Players like Paul Aguilar and Molina will be key in moving the ball forward.
WATCH THE HISTORY OF CLUB AMERICA IN THE PLAYOFFS HERE.
Although America lost against Tigres on Saturday, they feel in shape and ready for this derby against one their most hated rivals (after Chivas and Cruz Azul) in what is considered a Clasico Capitalino.
Pumas vs America Liguilla 2013 Prediction
Let's not forget that these two teams have played 3 finals between them, with 2 championships going to America and 1 for Pumas. This will be a match with great attendance in the stadium, and hopefully a great show in the field. Speed and touch in Pumas vs speed and experience in America will be at play. It is hard to predict, but a 1-1 draw is the most likely outcome.
Pumas vs America Liguilla 2013 Television
The Pumas vs America match will be televised on Univision Deportes this Wednesday, May 8, 2013 at 7:00 PM Pacific.