View the America 1-0 Pumas Highlights here.
The America vs Pumas Liguilla 2013 quarterfinal first leg match will take place at the Estadio C.U. on Wednesday May 8, 2013 at 7:00 PM Pacific. America and Pumas, two of the "equipos grandes" (big/great teams) of Mexico, will duke it out in what will likely be a fantastic Mexico City derby. The Clasico Capitalino 'Liguilla edition' will be an exciting series.
Club America had a successful regular season, finishing in second place with 32 points, just 90 minutes away from finishing as the #1 seed. America has several impressive statistics: #2 best offense (30 goals scored), #3 best defense (15 allowed), #3 best home record, and regular season goal-scoring champion Christian Benitez (12 goals).  Miguel Herrera has done a fantastic job with his team, and for the first time in many years, America appears as a legitimate title contender.
CLICK HERE TO SEE CLUB AMERICA'S LIGUILLA HISTORY
With all the positives America had this season, there are a couple of negatives that must be pointed out. A Copa MX semifinal loss against Cruz Azul at home, knocking them out of a tournament Herrera stated America had to win. More recently, a 2-0 home loss against Tigres this past Saturday. The match against Tigres was a true test, and America failed, losing the #1 seed in the process. Nonetheless, America are still the favorites coming into the quarterfinal series against Pumas.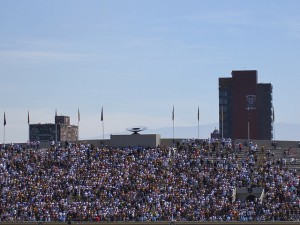 Pumas had a good regular season, earning 29 points, and getting the #7 seed simply due to goal differential (in fact, teams seeded #2-#7 are separated by just 3 points). Pumas's success is definitely due to its defense, which allowed just 14 goals all season long (second best in Liga MX). However, Pumas' offense left much to be desired, ranked as 10th in the league with just 19 goals scored in 17 matches.
Pumas will have to rely on its tough defense to stop the powerful offensive duo of Christian Benitez and Raul Jimenez (plus Mina if he gets playing minutes). If America scores at the Estadio C.U., it will be extremely hard for Pumas to win the series. The combination of away goal rules, plus America's own powerful defense would be too much to overcome.
CLICK HERE TO SEE PUMAS UNAM'S LIGUILLA HISTORY
America vs Pumas Liguilla 2013 Prediction
The America vs Pumas Liguilla 2013 match is a classic example of a shield vs spear match: a very good offense against a very good defense. Will the spear break or will the shield shatter first? America won the regular season match against Pumas 1-0, a similar result at C.U. can be expected.
America's offense is simply too powerful and Pumas will be unable to overcome it. Due to Pumas' limited offense, you can expect America to pounce on them from the beginning and maintain the pressure all game long. I predict the America vs Pumas match will end 1-0 in favor of the away team- Club America will end up winning this quarterfinal series.
America vs Pumas Liguilla 2013 Television
The America vs Pumas match will be televised on Univision Deportes this Wednesday, May 8, 2013 at 7:00 PM Pacific.