The America vs Tigres match will take place on Saturday, May 4, 2013 (3:00 PM Pacific) at the Estadio Azteca in Mexico City. This match holds huge implications for the playoffs, the outright winner of this match will end the season as the #1 seed, thus ensuring home field advantage throughout the playoffs. Will America continue its impressive 12 game undefeated streak, or will Tigres claim the #1 seed?
America has had an outstanding season, it currently sits in first place with 32 points, thanks to its 9 wins, 5 draws and 2 losses. Club America possesses the #1 rated offense in the Liga MX, with 30 goals scored, and the 3rd best defense, with just 13 allowed. Overall, this is an attacking oriented team that is still able to play a balanced game that reduces the opponents' scoring opportunities.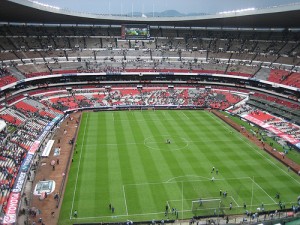 Another thing Club America has in its favor is Christian Benitez, a player who can score at any given moment given even the smallest opportunity. He currently leads the goalscoring table with 12 goals scored in 16 matches, and is likely to retain the goalscoring title. Furthermore, Benitez is accompanied by Raul Jimenez, a youngster who has surprised everyone with the 8 goals he has scored this season. To add even more to that potent offensive duo, America has a star bench player, Mina, a new striker who is almost as good as Benitez.
Club America has it all this season, great offense, good defense, a coach that embodies everything that Club America stands for (i.e. Herrera is good, annoying, arrogant, and kind of a jerk), and a legitimate shot at the title. This match against Tigres will definitively prove whether Club America has what it takes to win the Liga MX playoffs.
Tigres has the exact same points as America, although a smaller goal differential, that is why they must win in order to gain the #1 seed. However, Tigres has hit a bit of a bump, losing 2 out of its last 3 games. The losses against Pumas and Monterrey raise concern, because these are playoff caliber teams, and Tigres struggled with them. Club America will be a great test going into the playoffs, a loss on Saturday should raise alarms in Monterrey, losing 3 out 4 matches is no way to head into the playoffs.
If neither team wins Saturday's match (i.e. they draw), they open up the opportunity for Atlas to earn the #1 seed- the Guadalajara based team is just 1 point below Tigres and America. That's why I believe America and Tigres will give it their all, hoping to earn a decisive victory.
America vs Tigres 2013 Prediction
The America vs Tigres match will be an entertaining encounter that could very well be a preview of a potential championship match. America is on a roll, and there is nothing else Miguel Herrera would want than the #1 seed. Tigres have struggled against high caliber teams recently, and America at the Estadio Azteca will be the ultimate test. I predict the America vs Tigres match will end in a 2-1 victory for America, which will go into the playoffs as the main title contender.
America vs Tigres Television
The America vs Tigres match will be televised on Univision this Saturday, May 4, 2013 at 3:00 PM