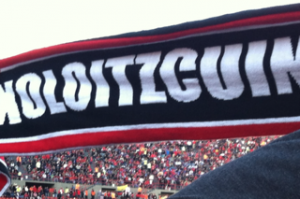 The Xolos Tijuana vs San Luis 2013 match will be this Saturday, April 27, 2013 (7:00 PM PST) at the Estadio Alfonso Lastras.  Xolos of Tijuana and San Luis face off in an almost meaningless match between 2 underperforming teams.  Xolos needs a win and a combination of results in order to qualify into the playoffs.  Meanwhile, San Luis is fighting to not become the Clausura 2013 worst team.
Xolos of Tijuana, sadly, has been a sorry-excuse of a team this season.  After winning the title just 5 months ago, and beginning the season with 4 straight wins, they have been unable to win since Week 8 (when they defeated "super-power" Atlante), and have lost 5 of their last 7 matches.  Luckily for them, the Liga MX is a league lead by irregularity, and amazingly they are still in the race to be one of the lucky 8 teams who get to play in the 'liguilla'.
The reality is that coach Antonio Mohamed has long-forgotten the Liga MX in order to focus entirely on the Copa Libertadores.  Last week they played with a 'B' squad, even when many starters were fit and when there was no match mid-week.  On Saturday, they will be without Joe Corona, Edgar Castillo, Alfredo Moreno, and Duvier Riascos, to name a few.  Considering this team has scored 1 goal in their past 4 games, not having their top scores means Xolos will say good-bye to the Clausura 2013 this weekend.
San Luis, unlike Xolos, may feel that their season was a success.  This is because although they may finish last in the league, they were able to prevent Queretaro from beating them in the relegation fight.  San Luis can now breathe, and enjoy its last 2 weeks in the season.
Xolos Tijuana vs San Luis Prediction
The Xolos Tijuana vs San Luis match will be one of the worst games during Week 16.  Two teams that play as if they play for nothing, will clash with Xolos the only team with slim hopes of still making the playoffs.  But like mentioned earlier, Xolos has left the building a long time ago, and the 'dog is lost'; if they can find themselves again, the liguilla will be their reward.  The Xolos Tijuana vs San Luis match will end in a 1-1 tie.
Xolos Tijuana vs San Luis Television
The Xolos Tijuana vs San Luis match will be televised this Saturday, April 27, 2013 on Univision Deportes at 7:00 PM Pacific.