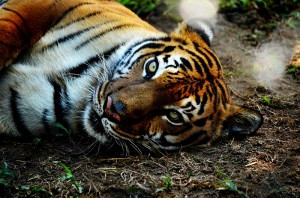 The Tigres vs Monterrey 2013 'Clasico Regio' match will be this Saturday, April 27, 2013 (5:00 PM PST) at the Estadio Universitario.  UANL Tigres and Rayados clash in a crucial match of the Clausura 2013 in what will one of the most important and tense games during Week 16.  Apart from the exciting city rivalry between these two clubs, Tigres needs a win to be one step closer in obtaining home-advantage in the playoffs;  Monterrey needs the 3 points to have a chance at gaining a seed.
Tigres has been the best team throughout this Clausura 2013, and on Saturday they have a special opportunity to become, once again, the elite team of Nuevo Leon.  With a win not only do they get very close of earning Liga MX's 1st place in the regular standings, but they would also eliminate their arch-nemesis from playoff contention.  The scenario is bright for Tigres, however, they have not won at home since Week 3; a total of 5 home games.  Therefore, Saturday's game is an important opportunity to win the Clasico Regio, to eliminate their top rivals, to obtain home-advantage during the playoffs, and to erase a negative win-less streak at the Universitario.
Rayados of Monterrey had a good streak at their disposal before last week; they had won 3 out of 4, and were in pace to reaching the playoffs. Then suddenly, they faced another team on a hotter streak, Santos, and lost 1-0.  That loss not only put their form in doubt, but it also put their playoff hopes in jeopardy.  Monterrey is currently in 9th place with 20 points, 1 away from the 8th spot.  With a win, they will be in the 'liguilla', but doing that will be a difficult task, as they face the league's top team who has yet to lose at home.
Tigres vs Monterrey Prediction
The Clasico Regio will be a fascinating match between two rivals who want nothing less than fame and victory.  Tigres and Monterrey do not have a century-long history of enmity, however, they do have the two best fan-bases of Mexico, and one of the most successful clubs in recent years.  Saturday's game will be intense, however, it will mean the end for one side.  The Tigres vs Monterrey match will end 2-0 in favor of Tigres.
Tigres vs Monterrey Television
The Tigres vs Monterrey match will be televised this Saturday, April 27, 2013 on Unimas at 5:00 PM Pacific.