The Pumas vs Jaguares match will have the Auriazul team host Jaguares at the Estadio Olimpico Universitario on Sunday, April 28, 2013 at 10:00 AM Pacific.
Pumas, so close to the playoffs
Pumas has a very good chance to still reach the post season. If they defeat Jaguares, and this combines with a couple of results in other games, they would be secured a spot in the next step to the championship.
Since 2011, when Pumas attained their last title, Pumas has not been able to reach the playoffs. It is still unknown what happened to the players that were able to get the championship; since then, their game clearly went into a steep decline, and this reflected in their performance.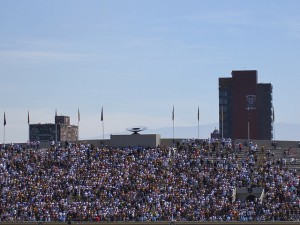 Pumas has the chance to come back to the playoffs and fight once again for a title; although, most of their fans would agree that just by reaching the post season would be good enough. Pumas needs to work towards next season and bring their game up, a job that Torres Servin needs to improve at.
Jaguares, with no chance themselves, can still ruin Pumas' season…
Jaguares is clearly not going to make it to the post season, but they have two things in mind. First, get the three points in order to not appear in the list of teams that might be relegated next season. Second, spoil the party for Pumas, who still has a chance at the Liguilla.
Jaguares counts with Luis Gabriel Rey, who despite of the team's performance, is still one of the top scorers this season. The Colombian has had one of his best seasons in the Liga MX and will fight in order to seek the top Scorer of the season.
Jose Guadalupe Cruz has had the upper hand while playing against Pumas and knows the keys to the victory, but his team has failed in critical situations and has lost games when they had the win almost in the pocket.
Pumas vs Jaguares 2013 Prediction
Due to the necessity of the 3 points, Pumas will clearly go out and attack from the very beginning. Jaguares will not stand back and counter attack as usual. Very fast game, but likely to be stuck in the middle of the field . I predict the Pumas vs Jaguares match will end in a 1-0 victory for Pumas.
Pumas vs Jaguares Television
The Pumas vs Jaguares match will be televised on Univision this Sunday, April 28, 2013 at 10 AM Pacific.