The America vs Pachuca match will take place this Saturday, April 27, 2013 (5:00 PM Pacific) at the Estadio Hidalgo in Pachuca. This Week 16 Clausura 2013 match carries huge implications for both Club America and Pachuca. Pachuca must win to remain with a legitimate shot at making the playoffs. An away win for Club America could potentially move them to the #1 spot in the standings (pending other results), and thus maintain home advantage throughout the playoffs.
After a mini 2-game slump, where Club America drew back to back games against Liga MX minnows Leon and Puebla, America recuperated by defeating Pumas. A win at home over one of the "Big" teams in Mexico is always encouraging, and America was able to do that with its 1-0 win over Pumas. This left America in third place with 29 points, just 3 points behind first place Tigres.
If America wants to be a true contender in the playoffs, it must end the season in either the #1 or #2 spot, as this would ensure they retain home field advantage until the championship series. America is currently 2 points behind second-placed Atlas, a win against Pachuca, combined with an Atlas loss against Puebla would put the Azulcremas in the second spot. That is why this match against the Tuzos is so important.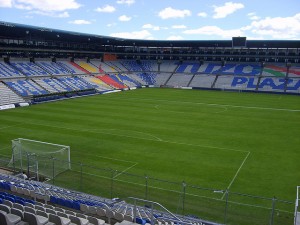 There was a point in the middle of the season where Pachuca looked like a solid team that was destined to make an appearance in the playoffs. However, the wheels have slowly started to fall off the Tuzo-wagon. Out of the last 5 matches, Pachuca has only been able to recoup 4 points, earning 3 losses along the way. This has put Pachuca in a vulnerable position, with just 20 points, barely outside the playoff places.
This match against America will be the last regular-season home game for Pachuca, and they need to take full advantage of it. Pachuca currently sits 1 point behind the 8th placed team (top 8 in standings make the playoffs). A win over America would give Pachuca a real chance at making the playoffs, a loss would really hurt their chances. The Tuzos must defeat America.
America vs Pachuca 2013 Prediction
The America vs Pachuca match will be intense due to what's at stake. I give America the upper hand in this match, even if it is the away team; Club America is coming off an important win over a rival that has been playing well. Pachuca has lost its last 3 matches, and shows no signs of stopping the losing streak. The America vs Pachuca match will end in a 2-1 win for Club America.
America vs Pachuca 2013 Television
The America vs Pachuca match will be televised on Univision Deportes this Saturday, April 27, 2013 at 5:00 PM Pacific.