The Chivas vs Atlas match-up is Chivas' second most important match every season, right after the super clasico versus Club America. The April 20, 2013 (4:00 PM PST at the Estadio Jalisco) edition of the Chivas vs Atlas 'Clasico Tapatio' will have the added bonus of actually mattering! For the past couple of seasons, the only thing at stake in this Guadalajara derby was pride, as either one team was too low in the standings, or both teams were out of playoff contention. Now, both Chivas and Atlas truly need the 3 points for their ambitions.
Chivas really (really, really) needs to earn the 3 points against Atlas. Chivas currently has just 16 points, winning would move them up to 19, where they would still be outside the top 8 playoff spots. Basically, Chivas needs to win the last 3 matches left in the season to get into the playoffs, a draw or loss against Atlas on Saturday would shatter any hopes of making the playoffs.
Unfortunately for Chivas, they are on a 4 game win-less streak, where they have played terrible soccer, and there is no reason to suspect they will break out of it. To further complicate things for the Chiverio, their away record does not create confidence. Chivas has played 7 away matches and won only 1 time. Galindo will have to motivate his players somehow, the season (and likely his job) are at stake against Atlas.
Check out some top sportsbook reviews here.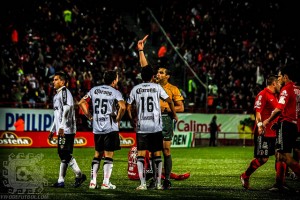 Atlas, on the other hand, has been doing surprisingly well this season (like seriously, Atlas is doing really well and Cruz Azul wins a title in the same season? Better recheck that Mayan Calendar…), sitting in third place with 28 points, just 1 point off league leading Tigres. Atlas has turned the Estadio Jalisco into a fortress, winning 16 out of the 21 points disputed there. A win against Chivas would go a long way in ensuring home field advantage for Atlas throughout the playoffs; this is a match that could catapult Atlas into a serious title contender.
Big part of Atlas' success is due to Omar Bravo's revival as a goalscorer and a play maker  Bravo has scored 6 goals this season, and has been involved in most every other goal Atlas has scored. Bravo will get to face his old squad, a team that discarded him and shipped him off to the MLS; he will have plenty of motivation to bang in a couple of goals against Chivas.
Chivas vs Atlas 2013 Prediction
Chivas needs to win, any other result eliminates them from playoff contention. Atlas will take advantage of this, and play its usual counterattacking style, in hopes of catching Chivas too far up the pitch. Chivas will play with heart, but it won't be enough to beat an Atlas squad that wants to break a 50+ year old championship-less streak. The Chivas vs Atlas match will end in a 2-1 victory for Atlas.
Chivas vs Atlas Television
The Chivas vs Atlas match will be televised on Univision Deportes this Saturday, April 20, 2013 at 4:00 PM Pacific.
Learn more about sports betting at topbettingreviews.com.