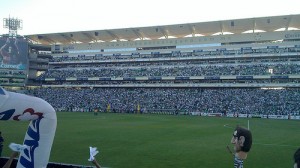 The Santos vs Monterrey 2013 match will be this Friday, April 19, 2013 (7:30 PM PST) at the Estadio TSM Corona.  Both teams play a crucial match towards the playoffs, and moreover, they will give a little taste of what the final of the CONCACAF Champions League final will look like.  Santos comes into the game in great form by sitting in 4th place with 26 points.  Monterrey is having a late-season comeback and has 20 points in the 8th place.
Santos Laguna has been incredible this season by having the 2nd best offense and defense in the Liga MX.  This is a team that is well coached by Portuguese newcomer Pedro Caixinha, who style an offensive scheme with a strong midfield.  On Friday, Santos will lock their playoff spot with a tie, but a win could tie them in points for the league's number 1 seed.  This is a team that has not lost in 8 straight games, leaving them as one of the favorites for this year's title.  If one remembers clearly, last season Xolos of Tijuana did not lose on the last 15 games of the regular season, and later became Apertura 2012 champs.  Santos may do something similar this time, and who knows, the story may end in the same way.
Monterrey on the other hand, is having a very similar season compared to the last Apertura 2012.  Last semester, they underperformed all season long, and in their last couple of games they obtained enough points to jump into the playoffs in the 8th seed.  This Clausura 2013 is similar because their game has improved, and they now have not lost in their past 3 matches.  A win on Friday could take them all the way to 5th place, making them into a good title contender.
Santos vs Monterrey Prediction
The Santos vs Monterrey 2013 match will be an exciting confrontation between two clubs that are slowly becoming 'rivals of the north'.  Both sides are passing through good moments; however, Santos Laguna has the upper-hand on Friday because they play at home and because they have not lost in 8 matches.  Monterrey has not lost in 3 straight, and defeating Santos will show that they too, are a title contender.  The Santos vs Monterrey 2013 match will end 2-1 in favor of the home team.
Santos vs Monterrey Television
The Santos vs Monterrey 2013 match will be televised this Friday, April 19, 2013 on Univision Deportes at 7:30 PM Pacific.