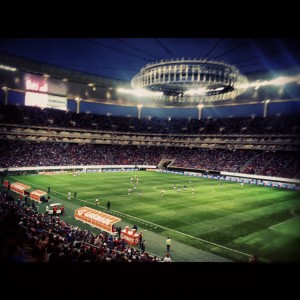 The Chivas vs Atlante Week 14, Liga MX match will take place this Sunday, April 14, 2013 (3:00 PM PST) at the Estadio Omnilife.  Chivas of Guadalajara has been on a poor run by not winning their last 3 games, which has also put them in a bad situation if they want to be in this season's playoffs.  However, they have a good opportunity to win this Sunday when they face the league's worst tam, Atlante.
Chivas has not been a bad team this season, however they have been plagued by many injuries and suspensions which has forced its youth system onto the field, thus giving them bad results.  This is a team who is playoff caliber, however, they require to make quick points as their 16 points have them located in 13th place and out of the playoffs.  If the 'rebaño' were to obtain a win at the Omnilife, they will have 19 points and climb up to 10th place; 1 point away from a playoff seed.
Atlante has been a disaster during this Clausura 2013.  They have only won 2 games, they are in last place with 7 points, and they have allowed a league's worst, 29 goals in just 13 games.  This is a team with weaknesses all-around who is pressured to make points in its last 4 games of the season; otherwise, they will find themselves in relegation talks next year.  Atlante did have a nice time this first semester when they reached the Copa MX final, which they lost last Wednesday against Cruz Azul in penalty kicks.
Chivas vs Atlante Prediction
On Sunday we will see a Chivas of Guadalajara team desperate to make goals, and an Atlante team desperate to not receive any.  In other words, this will be a one-sided match where the only question is if Chivas has what it takes to score on their few opportunities.  Considering they are the superior team, they did not play 4 days ago, and they have the home support, Chivas will undoubtedly win this one.  The Chivas vs Atlante 2013 match will end 2-0 in favor of the goats.
Chivas vs Atlante Television
The Chivas vs Atlante match will be televised this Sunday, April 14, 2013 on Telemundo at 3:00 PM Pacific.