The Xolos Tijuana vs Cruz Azul match will take place at the Estadio Azul on Saturday, April 13, 2013 (3:00 PM Pacific). This is a crucial must-win match for both teams, they are fighting for a spot in the bottom half of the playoff positions. Will Cruz Azul ride the momentum from the Copa MX title win?
Xolos has had a disappointing season in the Liga MX, with just 18 points earned after 13 matches, and sitting in 8th place, just holding on to the playoff spots. Furthermore, Xolos has not won a match since Week 8, and has lost 3 consecutive away games. However, these results don't show the real state of Xolos, as El Turco has focused his squad 100% on the Copa Libertadores.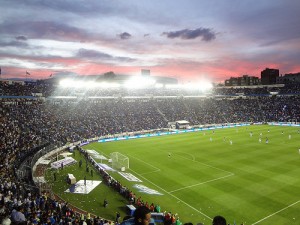 El Turco has saved his key players for the Copa Libertadores, using the reserve team for the Liga MX (hence the terrible results). Now, the group stage of the Copa Libertadores is done, and Xolos did great, gaining a historic ticket to the Libertadores knockout stages, thanks to its great group record of 4 wins, 1 draw and just 1 loss. With the Copa Libertadores knockout stage ticket secured, it's time for Xolos to focus back on the Liga MX.
Xolos will face a motivated rival in Cruz Azul, a team that just won the Copa MX title in a mid-week game against Atlante. This win is in a sense, historic, for the "great" Cruz Azul, as it is the first piece of silverware the Mexico City based team has lifted in 16 years. However, Cruz Azul played quite bad, as it drew Atlante (last place in the Liga MX standing) 0-0 and won thanks to a penalty shootout.
With just 17 points earned so far, and 4 games remaining in the season, this is certainly a must-win game for Cruz Azul. A loss against Xolos would put Cruz Azul 3 points away from the playoff spots with just 3 games remaining, a very difficult situation to be in. Cruz Azul must go all out on Saturday, or face finishing with a mediocre season with the only redeeming point being a Copa MX title.
Xolos Tijuana vs Cruz Azul 2013 Prediction
The Xolos vs Cruz Azul match will be tough, tight, and very contested; neither team will want to lose, and neither will risk too much to go for the win. It will be interesting to see how Xolos, once against focused on just the Liga MX, will handle a Cruz Azul squad that has been mediocre all season long. I give the edge to Xolos, I predict they pull a very important 1-0 away win. Xolos played great in the Copa Libertadores against top talent, if they bring this to the Estadio Azul, they will come out with 3 points.
Xolos Tijuana vs Cruz Azul Television
The Tijuana vs Cruz Azul match will be televised on Azteca America this Saturday, April 13, 2013 at 3 PM Pacific.