The Pumas vs Tigres match will have Pumas host Tigres in a match that seems more than appealing, which will be played at Estadio Olimpico on Sunday, April 14, 2013 at 10:00 AM PST.
Pumas, seeking to end the undefeated streak of Tigres
Pumas has only got one victory at Estadio Olimpico, but that does not stop them from thinking about cutting the streak of Tigres. This game, Pumas will have to make use of their speed and youth to stop a team that knows no defeat.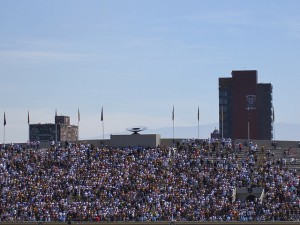 Last week versus Pachuca, Pumas had a game that was not the best, yet they put the ball in the net twice and got the win. A vital 3 points were obtained at the Tuzos' home. This result should have given the team the boost in confidence needed to face what it could be the hardest game of the season.
With players like Bravo, Cortes and Velarde, the last two being surprisingly called for El Tri friendly against Peru next Wednesday, Pumas will have to play it all to stay in the pack of the first 8 and with that have a good chance to reach post-season.
Tigres, on a roll and everything in their favor
Tigres is a team that has not known defeat this season, but what is more important is that even though they are under the coaching of Tuca Ferretti, the team is displaying good soccer and an entertaining show. Usually teams coached by Ricardo Ferretti are not great in displaying quality soccer (too defensive)  but they do acquire results. This team is displaying both and is on a roll and pretty much qualified for the post-season.
Tigres, with players like Lucas Lobos, Emmanuel Villa and Carlos Salcido is a team that is solid in the defense and the offense. With only missing Damian Alvarez and Jose Rivas, Tigres still has a selection of players capable of bringing balance to the team in the field. Against Pumas they will play to have the possession of the ball and move it to the front, something that this team knows how to do.
Pumas vs Tigres Prediction
Pumas is all in for this match, Tigres, with another win will be sitting in the post season. A game fought at both ends of the field. It will be a fast game due to the virtues of players in Tigres and youth of players in Pumas. The score in the Pumas vs Tigres match will end 1-1
Pumas vs Tigres Television
The Pumas vs Tigres match will be shown on Univision this Sunday, April 14, 2013 at 10 AM PST.