The Cruz Azul vs Atlante Copa MX 2013 Final will take place at the Estadio Andres Quintana Roo on Wednesday, April 10, 2013 (7:00 PM Pacific). This 2013 edition of the Copa MX features two teams that have been either mediocre (Cruz Azul) or outright terrible (Atlante) in the Liga MX. However, they have played well enough in the Copa MX to make it to the final. Will the worst team in the Liga MX win the trophy, or will Cruz Azul break a 16 year win-less streak?
Cruz Azul got to the final after a very entertaining match against America at the Estadio Azteca, a game that did much to lift the prestige of this new competition. Both America and Cruz Azul showed up with their key players, and played a match that was worthy of the Liga MX playoffs. After 90 minutes, the score was tied 1-1, and the winner had to be decided via penalties. Cruz Azul won the 'coin-flip' and earned the right to a shot at the Copa MX title.
Atlante made it to the Copa MX Final via similar circumstances- they drew Puebla 1-1, and defeated them in penalty kicks. The main difference was that Atlante played at home, and that everyone was focused on the America vs Cruz Azul match. Nonetheless, Atlante has the same chance of winning the Copa MX 2013 trophy as Cruz Azul.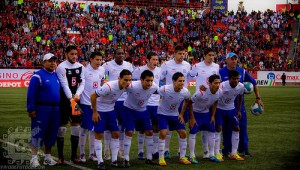 You can't write about Cruz Azul playing a championship match without bringing up their embarrassing,  somewhat funny history in finals the past 16 years. 1997 was the last time Cruz Azul won any type of trophy, the Mexican Primera Division, since then, Cruz Azul has disputed 7 finals and lost them all. Since 1997, Cruz Azul has lost 4 Liga MX Championships, 2 CONCACAF Champions League title matches, and 1 Copa Libertadores final.
The heartbreak Cruz Azul fans have had to deal with is terrible, between 2008 and 2010, Cruz Azul lost FIVE championship matches. On Wednesday, the fans will either be rejoicing at having broken the long win-less streak, or pained at yet another season where they were so close to a trophy.
Atlante is having a terrible season, and wining the Copa MX title might not be enough to salvage it (Atlante could be relegated if they screw up badly enough in the last 4 Liga MX matches). They have earned just 7 points after 13 matches in the Liga MX. This has made them drop to the near bottom of the relegation table, staying just 7 points away from Queretaro. With only 12 points left in play, it's likely that Atlante won't be relegated (this season), but they're definitely still not out of it.
Cruz Azul vs Atlante Copa MX Final Prediction
Cruz Azul have the edge for this game, they have the better squad, have been doing better in the Liga MX, and are playing a team that has done everything possible to be relegated. However, they have 16 years of losing history and 7 consecutive losses in championship games hanging over them. On Wednesday, Cruz Azul's worst enemies will be themselves and their history, not Atlante. The Cruz Azul vs Atlante Copa MX 2013 match will end 2-1 in favor of the Cementeros, the 16 year streak will be broken!
Cruz Azul vs Atlante Television
The Cruz Azul vs Atlante Copa MX final will be televised on Univision Deportes, ESPN Deportes and ESPN 3 this Wednesday, April 10, 2013 at 7 PM Pacific.