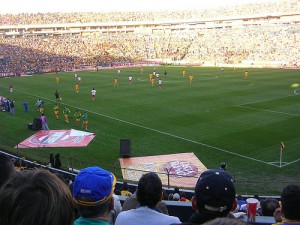 The Tigres vs Leon match will take place on Saturday, April 6, 2013 (6:00 PM PT) at the Estadio Universitario.  Tigres UANL is having an extraordinary season where they currently are in 1st place with 28 points.  Leon has already lost the fight against the current, and they have a mere 7 points and sit in 15th place.
The team lead by Tuca Ferreti has been extraordinary in all aspects of the game.  They have a dynamic offense, a secure defense, and the nation's best fan base.  All these put together, and you have the league's best team still undefeated after 12 games.  Tigres has everything necessary to keep the streak alive when they host one of the league's lowest teams. With a tie or a win, Tigres will secure a place in this season's playoffs.
It is difficult to analyze who it is that Leon fell so bad this season considering just a couple of months ago they were top-3 favorite to win the Apertura 2013.  The best offense of last year is ironically this season's worst with only 9 goals after 12 games.  Sadly, they face the toughest team this Saturday with one of the best backlines, meaning obtaining at least a goal, let alone a point, will be a task by itself.
Tigres vs Leon 2013 Prediction
Tigres is the league's top team and there are no signs of anyone slowing them down.  On Saturday they will face one of the weakest teams, therefore their unbeaten streak will stay alive.  Leon has not improved at all in the past games, and they will not do this when they visit Tigres.  The Tigres vs Leon 2013 match will end 2-1 in favor of the home team.
Tigres vs Leon Television
The Tigres vs Leon game will be televised this Saturday, April 6, 2013 on Unimas at 6:00 PM Pacific.