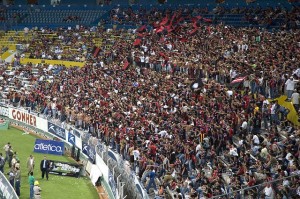 The Atlas vs Morelia match will take place on Saturday, April 6, 2013 (8:00 PM PT) at the Estadio Jalisco.  Club Atlas is having an extraordinary season where they currently are in 2nd place with 26 points.  Monarcas Morelia is fighting for a playoff seed as they sit in 7th place with 17 points.
Atlas has surprised everyone this Clausura 2013 as they have played great defensively, their midfield has been outstanding, and its offense has even sent Omar Bravo back to the Mexican national team.  On Saturday, they will attempt to make their season better by defeating Morelia, and securing a place in this season's 'liguilla'.  In terms of relegation, this team is secured from the Ascenso MX this year, however they are still obliged to keep on producing points in order to not be involved in demotion talks next year.
Monarcas Morelia is one of a few teams this season that have played extraordinarily great as of late.  Morelia has not lost in the last 5 games, and just last week they destroyed Atlante 4-0.  This is a team with the best offensive wingers in the Liga MX with Joao Rojas on the right, and Jefferson Montero on the left.  These players will be a crucial ingredient in Morelia's attempt to defeat Atlas on Saturday.
Atlas vs Morelia 2013 Prediction
Both Atlas and Morelia are good teams that will probably be in this season's playoffs.  Atlas has one of the best backlines in the league, but Morelia has one of the most dynamic attacks.  This will be one of the best games in Week 13, but at the end, only 1 point will leave from this one.  The Atlas vs Morelia match will end in a 1-1 tie.
Atlas vs Morelia Television
The Atlas vs Morelia game will be televised this Saturday, April 6, 2013 on Univision Deportes at 8:00 PM Pacific.