The Chivas vs Jaguares match will take place at the Estadio Victor Manuel Reyna in Chiapas on Friday, April 5, 2013 (6:30 PM Pacific). Both teams are coming off difficult losses, Chivas lost against arch-rival America, and Jaguares lost against the league's weakest team, San Luis. Chivas must win to remain close to the playoff spots.
Five. Those are all of the remaining games in the Clausura 2013 regular season, and Chivas needs around 7-10 points of the 15 points left in play to get into the playoffs. A win at Chiapas is an important first step towards making the playoffs, a draw would be a mediocre result that hurts their chance, and a loss catastrophic. The match against America was more just than a rivalry, there were important points with playoff implications at stake.
Chivas got a raw deal against America, 3 injuries, and a dubious red card, which gave them little chance of defeating a great squad like America. The 2-0 loss left Chivas with 16 points, sitting in 11th place- lucky for them- teams #7-#10 all have 17 points. That is why an away win at Chiapas is so important, it would secure Chivas a fighting chance at making the playoffs.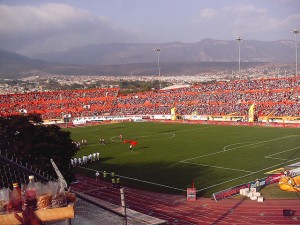 Jaguares has been a complete disaster this season: 1 win, 4 draws and 7 losses; only 12 goals scored and 23 received. Arguably, the worst part of the season for Jaguares happened last week when they visited San Luis, a team that had by then accumulated just 3 points through 11 matches, with no wins. Well, Jaguares gave San Luis its first victory, a 3-0 win that proved vital for San Luis, pushing them away from relegation candidate Queretaro.
The season is over for Jaguares, they will not make the playoffs, and aren't fighting against relegation (not this season anyways). All they have left to play for is to be a 'spoiler'. The Victor Manuel Reyna will be full of Chivas fans hoping to see their team win a key match, and Jaguares will try to sour their day with a home win.
Chivas vs Jaguares 2013 Prediction
The Chivas vs Jaguares match is a decisive encounter for Chivas, they must win in order to stay in the playoff race. However, Chivas has been a team that has struggled to win all season long, and I expect they will suffer even against bottom dwelling Jaguares. The Chivas vs Jaguares match will end in a 1-1 draw, Chivas will play better, but they will be unable to pull off the away win.
Chivas vs Jaguares Television
The Chivas vs Jaguares match will be televised on Azteca America and ESPN 2 (English) on Friday, April 5, 2013 (6:30 PM Pacific).