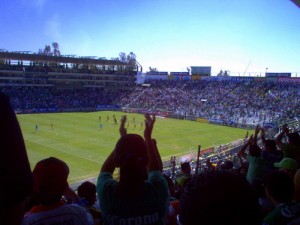 The Leon vs Pachuca Liga MX Clausura 2013 match will be this Saturday, March 30, 2013 (7:00 PM EDT) at the Estadio Nou Camp.  These teams have a rivalry in the making due to their association with Grupo Pachuca.  With a win Pachuca will get deeper into the playoffs while Leon needs points to be safe from relegation spots.
The team lead by Gabriel Caballero is ready to face one of the weakest teams this season.  When they visit Leon, they will have a great opportunity to continue on their playoff-bound run this season.  Pachuca is currently in 5th place with 19 points while a win could move them up 2 spots in the regular standings.
Leon has been a total disaster this season; they are not even a shadow of what they were in the Apertura 2012 when they finished 3rd in the league.  They have a difficult challenge against Pachuca who is one of the top teams this season.  However, they will use their home-advantage and their desire for quick success to attempt and beat their rival.
Leon vs Pachuca Prediction
While Leon and Pachuca are having contrasting seasons, this match is a feud that is already a small rivalry.  Pachuca is seen as the big brother since both squads are owned by the same Grupo Pachuca.  Rivalry aside, Pachuca is the superior team this Clausura 2013 while Leon has been a constant underachiever.  The Leon vs Pachuca match will end in a 1-1 tie.
Leon vs Pachuca Television
The Leon vs Pachuca match will be televised this Saturday, March 30, 2013 at 7:00 PM Eastern on Telemundo.