The Cruz Azul vs Atlas match will be this Saturday, March 30, 2013 (6:00 PM Pacific) at the Estadio Azul in Mexico City.  Cruz Azul has had a bit of an uneven season, and is currently 3 points away from the playoff spots. On the other hand, Atlas has been the surprise team of the season, and is just 2 points behind league-leading Tigres.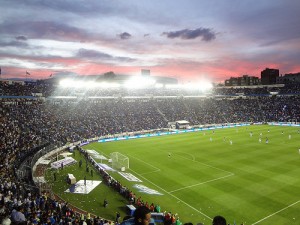 Last match day, Cruz Azul traveled to Cancun and came back with all  points, after defeating Atlante 3-0. The week prior to that match, Cruz Azul drew Jaguares 1-1 at home. That's the type of season it has been for Cruz Azul – inconsistent, mediocre, bad- whatever you want to call it. Now, they must face a red-hot Atlas that can win away or at home, and is extremely tough to defeat.
Atlas has had a fantastic season, in the Apertura 2012, they were near the bottom of the table and an almost guaranteed relegation candidate. Now, they have 23 points and are sitting in second place, with the playoffs within their grasp. Furthermore, they have removed themselves from the relegation battle (not entirely, but pretty close). They are still just 6 points away from Queretaro, but San Luis has entered the mix and is now part of the relegation struggle. The way San Luis has been playing, Atlas is quite safe from relegation.
Atlas' strength this season has come from its defense, which has allowed just 8 goals (second best in Liga MX). Well, defense and Omar Bravo, who is having a second-air, scoring 6 goals so far this season. Bravo has provided 40% of Atlas' goals this season, and his play up-front has been key in most all other goals. He has been so good, that he was recently called up to the Mexican National Team (though he didn't help much).
Cruz Azul vs Atlas Prediction
Cruz Azul and Atlas will provide a good show, Cruz Azul needs the win for its playoff hopes, and Atlas has played well all season long. Expect to see Atlas with a strong defensive setup, relying on Omar Bravo to create opportunities from long balls.  The Cruz Azul vs Atlas  match will end in a 1-1 tie. Atlas has played well in away games, but never risks too much on the attack; Cruz Azul won't be able to crack the safe.
Cruz Azul vs Atlas Television
The Cruz Azul vs Atlas match will be televised this Saturday, March 30, 2013 on Azteca America at 6:00 PM Pacific.