The USA vs Costa Rica match will be held at the Dick's Sporting Goods Park in Denver on Friday, March 22, 2013 at 10 PM Eastern. Although this is barely the second out of 10 matches scheduled in the Hexagonal, it is already a must-win for the USA, they cannot afford to lose two in a row. Costa Rica is coming in with low expectations, any points earned in Denver would be just gravy, as they likely haven't counted on them in their equation for reaching the World Cup.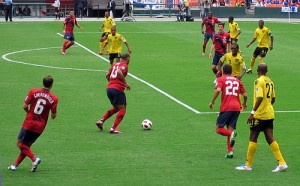 Last month, the USA had a bad day in San Pedro Sula, where they lost 2-1 against a Honduran squad that simply wanted the win more. Just like it has struggled in all away games in Klinsmann's tenure, the US once again struggled in Honduras and came out with as many points as it had coming in. After Costa Rica, the US travels to Mexico City; given the USA's terrible struggles in away games, and its generally bad history at the Estadio Azteca, another away loss is not out of the question. That is why Friday's match against Costa Rica is a must-win.
If the US were to drop any points against Costa Rica at home, it could face the perilous situation of having just 1 or even 0 points after 3 matches. However, lets not get ahead of ourselves, the US has won all of its qualifying home games, and not defeating Costa Rica would be a huge surprise.
However, the Ticos really have nothing to lose, Costa Rica drew Panama 2-2 in Panama a month ago. If a CONCACAF team can draw 3 away games and win all 5 home games, it is pretty much guaranteed a spot in the World Cup; Costa Rica is probably not counting on away points in the USA as part of its World Cup equation. Getting any points from its visit to Denver would be great, but is not necessary for their World Cup plans. That is why Costa Rica might be dangerous, knowing that this is a must-win for the USA, Costa Rica will fall back looking for the counterattack.
USA vs Costa Rica 2013 Prediction
The USA vs Costa Rica match will be a tight, contested affair. Costa Rica will defend with 11 men, looking for speedy counterattacks. The USA has to win this match, and if the US does not score early on, it will risk more on the attack opening itself up for counterattacks. They key to this match, is a first half goal for the USA, this would settle the game. The USA vs Costa Rica match will end in a 1-0 win for the home team. It won't be pretty, we might not like watching it, but the US will get the job done.
USA vs Costa Rica 2013 Television
The USA vs Costa Rica match will be televised on ESPN & Unimas on Friday, March 22, 2013 at 10 PM Eastern.