The Mexico vs Honduras match will be held at the Estadio Olimpico in San Pedro Sula on Friday, March 22, 2013 (5:00 PM EDT). Honduras will host a Mexican team that's coming off a disappointing 0-0 draw against Jamaica at the Estadio Azteca. The Hondurans lead the CONCACAF Hexagonal, after defeating USA 2-1 in the first match of the Hexagonal round.
20 years. That's how long it's been since Mexico last won a game in San Pedro Sula. 20 years ago, Mexico defeated Honduras 4-1 on its way to the 1994 USA World Cup. Since then, it has been nothing but draws and defeats. When you add that Honduras played well in its victory over USA, and Mexico looked awful against Jamaica at home, you can understand why the Honduran media is proclaiming the home team favorites to win all 3 points on Friday.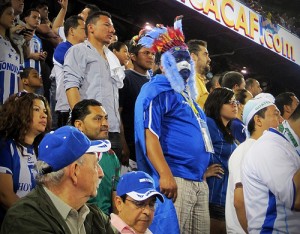 However, it won't be easy for the Hondurans, even playing at Estadio Olimpico in front of thousands of rabid fans who will be waiting for the biggest prize (after a World Cup ticket, of course): defeating Mexico. Mexico is bringing in a talented squad with the likes of Corona, Hector Moreno, Guardado, Dos Santos, Chicharito, et al. This talented Mexican squad is far and away superior (on paper) to the humble Honduran squad.
Honduras will not face a timid squad, Mexico will not fall back and play tired like the USA did a month ago. Nonetheless, Honduras has proved that they are a decisive team at home (just look at the past 20 years), and they won't be intimidated by Mexico's supposed superiority. Look for the Hondurans to play an aggressive, yet composed match, looking for the win.
Mexico vs Honduras Prediction
The Mexico vs Honduras match is the hardest home match Honduras will have in the qualifiers.  However, Honduras has proven that it can defeat top CONCACAF squads at home, and Mexico will have to play a near perfect game to come out with an away win.  The Mexico vs Honduras match will end 1-1, prolonging Honduras' undefeated home streak against Mexico. Honduras will not be defeated, they have proven over the span of 20 years, that not even CONCACAF's super power can take all 3 points from their home fortress.
Mexico vs Honduras Television
The Mexico vs Honduras match will be televised on Telemundo this Friday, March 22, 2013 at 5:00 PM Eastern.