The Chivas vs Tigres Liga MX 2013 game will take place on Saturday, March 16, 2013 (9:00 PM EDT) at the Estadio Universitario in Monterrey. This is the must-watch game of the week: it features Tigres, the only undefeated team in the Liga MX, and the popular Chivas, which have not lost since week 2.
Chivas remained near the bottom of the standings for the first couple of weeks this season. This was not due to losses (only 1 loss in 10 games), but due to their inability to win (started off the season with 4 draws and 1 loss). However, Chivas has been playing better with each passing weak, maintaining its undefeated streak to 7 games. Chivas currently sit in 8th place with 15 points, with 3 wins, 6 draws and 1 loss.
Chivas had a good Week 10 match, where it defeated Pachuca at the Estadio Omnilife 1-0. This win put Chivas in the playoff spots, although it must defeat Tigres if it wants to guarantee it stays in the top 8 position of the Liga MX for at least 1 more game.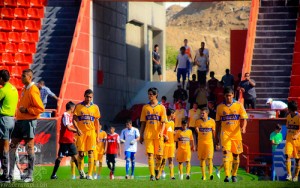 Tigres has been outstanding in the Liga MX: 7 wins and 3 draws, only undefeated team left in the Liga MX, 1 point ahead of 2nd placed team, Atlas. Even without goalscorer Tito Villa, Tigres has been able to win and remain undefeated, a true testament to the strength of Tucas' team. Furthermore, their fans unofficially won the 'best fans in Mexico' award when 20,000 of them went to the Estadio Alfonso Lastras in San Luis, and watched their team defeat San Luis 2-1. It was truly a sight to behold.
However, Tigres' great success in the Liga MX has come at a cost: elimination from the CONCACAF Champions League. Tuca has never been a fan of international tournaments, always using alternate teams, stating "what is the point?", and basically never achieving anything internationally (his 1 great flaw in my opinion). Mid-week, Tigres sent a completely alternate squad to Seattle, and were defeated 3-1 in the return leg of the CCL quarterfinals. Eliminated with an aggregate score of 3-2.
Chivas vs Tigres Prediction
The Chivas vs Tigres game is the must-watch game of the week. Chivas wants to continue its 7-game undefeated run, and Tigres wants to do likewise with its season-long undefeated streak.  The Chivas vs Tigres  match will end in a 1-1 draw. While Tigres is indeed the best team in the league, Chivas has proven to be nearly impossible to defeat, even if they don't have a shot at winning. I simply can't see either team going away with the 3 points.
Chivas vs Tigres Television
The Chivas vs Tigres 2013 match will be televised this Saturday, March 16, 2013 on Univision Deportes at 9:00 PM Eastern.