The America vs San Luis Liga MX 2013 match will be this Saturday, March 16, 2013 (7:00 PM EDT) at the Estadio Azteca. America is one of the best teams in the Liga MX, and wants to remain in the top of the standings- San Luis is the worst team in the league, and is yet to win a game.
Last week, America had a very disappointing match at Morelia. America played against 10 men for most of the match, missed a penalty, and was unable to come out with the win- a 1-1 draw was all they got. However, America recuperated from the draw with a mid-week Copa MX quarterfinal win over Ascenso MX rival Tecos. America was unable to win in regular time, but was able to earn the victory via penalty kicks.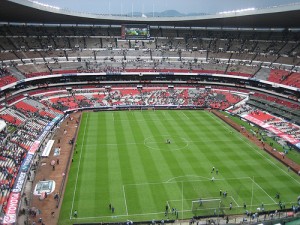 Club America currently sits in 3rd place of the Liga MX thanks to its 6 wins, 2 draws, and 2 losses, for a total of 20 points. America is 4 points behind Tigres, and Herrera will want to make up that difference to ensure America maintain home advantage throughout the playoffs. Furthermore, America is set to play in the Copa MX semifinals, and thus has another chance of adding a trophy.
San Luis is on the opposite side of the soccer spectrum. Their season has been so terrible, that after not even being in the relegation picture at the beginning of the season, they are now one of the two candidates destined to the Ascenso MX. That's what happens when you have 2 draws and 8 losses. San Luis is currently the only team in the Liga MX that is yet to win a match; I definitely don't like their chances against #3 seed America.
The only bright spot of the season for San Luis, is that Queretaro is 6 points behind them in the relegation battle. There are 7 matches remaining in the season, and San Luis needs to close it strong in order to avoid a catastrophic failure.
America vs San Luis Prediction
The America vs San Luis match will be a 1-sided affair that America should be able to win easily. San Luis has been awful all season long, and it would be the surprise of the season if they are even able to come up with a draw.  The America vs San Luis match will end in a 2-0 victory for the home team, America has been playing well, and a super-weak San Luis won't be an issue.
America vs San Luis Television
The America vs San Luis 2013 match will be televised this Saturday, March 16, 2013 on Univision at 7:00 PM Eastern.