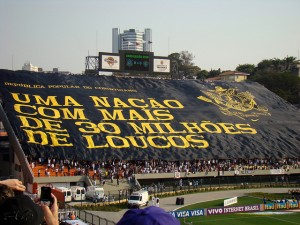 The Corinthians vs Xolos Tijuana Copa Libertadores 2013 match will be this Wednesday, March 13, 2013 (9:00 PM EDT) at the Estadio Paulo Machado.  Corinthians (BRA) and Xolos (MEX) faced each other last week in Tijuana where the Mexican side won 1-0 to take sole possession of Group 5 with 9 points.  The group is also composed of Millonarios (COL) and San Jose de Oruro (BOL); the top two teams qualify into the next round.
Xolos of Tijuana has its most difficult match during the group stages when they face Corinthians Wednesday night.  Not only did they have to travel for over 16 hours, but they face the world champs in front of a packed stadium.  Corinthians and its fans are eager to obtain their revenge by defeating the team that beat them just last week.
With a win, Xolos will obtain their pass into the next round as after 3 match they have 9 points with zero goals against; this makes them the current top team in the Copa Libertadores.  Tijuana has been successful because of their top mentality on the field which consists of ball-possession and a quick counter-attack system.
Corinthians wants to win not because they want revenge from a game they felt they were robbed, but rather because another loss will put their season in real jeopardy.  The 'timao' will likely play an offensive system in which aggressiveness will be required to get through Tijuana who still has not received a goal.
Corinthians vs Xolos Tijuana Prediction
Xolos of Tijuana will play defensively, possibly with a 5-3-2 formation with the goal of obtaining a draw from Brazil.  This will give Corinthians enough room and time to have scoring opportunities.  Considering the magnitude of the Brazilian squad, they will not go 2 games without a goal, and on Wednesday these will be the difference.  The Xolos Tijuana vs Corinthians match will end 2-0 in favor of the home team.
Corinthians vs Xolos Tijuana Television
The Corinthians vs Xolos Tijuana match will be televised LIVE this Wednesday, March 13, 2013 on Fox Deportes at 9:00 PM Eastern.