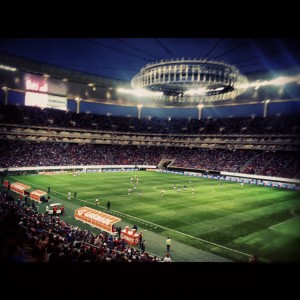 The Chivas vs Pachuca Liga MX 2013, Week 10 match will be this Sunday, March 10, 2013 (7:00 PM EDT) at the Estadio Omnilife.  Chivas and Pachuca meet in one of the most interesting matches this week of the Clausura 2013.  While both squads were great disappointments last season, in this one they have improved in form and style, thus improving their probability of entering the playoffs.
Chivas of Guadalajara does not know how to win; they have only won one game after 9 games.  However, this is a team that is also not good with losing, as they have only lost once; Chivas has 6 ties, where their last loss was during Week 2.  On Sunday they will attempt to obtain 3 points which would take them up to 7th place with 15 points.  It is good to note that Jorge Vergara has prohibited the 'barras' from entering the stadium, meaning, if people do not show up to the game on a regular basis, how poor will the atmosphere be at the Omnilife now?
Pachuca is a team to watch; they have won 4 out of their last 5 games, and are currently in 6th place with 16 points.  A tie will put them above Xolos in 5th, while a win puts them in 4th above Santos.  In other words, this is a team that has finally recaptured form, and it is playing as contemplated considering their great talent.  However, they have a difficult task against Chivas who is still longing for a win at home.
Chivas vs Pachuca Prediction
Both teams are in good shape, and both squads know that a win puts them close to a playoff seed.  Question is, who wants it more?  Chivas wants to win in front of their fans for the first time this season, while Pachuca with a win get incredibly close to a playoff seed.  The Chivas vs Pachuca match will end 1-0 in favor of the home team.
Chivas vs Pachuca Television
The Chivas vs Pachuca game will be televised this Sunday, March 10, 2013 on Telemundo at 7:00 PM Eastern.