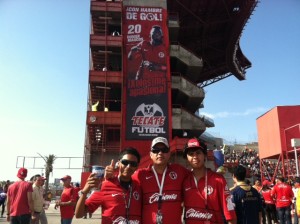 The Xolos Tijuana vs Queretaro Liga MX 2013 match will be this Saturday, March 9, 2013 (8:00 PM EDT) at the Estadio Caliente.  Xolos of Tijuana is in a good mood, and they want their celebration to continue this weekend when they face Queretaro in Tijuana.  Queretaro travels to the border city to face the team that just defeated the world champions, Corinthians, in an attempt to catch up on relegation rivals Club Atlas and San Luis.
Xolos of Tijuana received Corinthians last Wednesday for the 3rd match of the Copa Libertadores 2013.  They left with an important win that has put their mentality and mood up in the sky, meaning they are ready to prolong their party with a win against Queretaro.  Xolos has been affected gravely in the Liga MX with the Libertadores as they have lost 3 out of their last 4 games, but in those games they dominated the sphere.  If the reserves are able to take advantage of their scoring opportunities, then they will come out with a win.
Gallos Blancos defeated a weakened Monterrey last week which put them at 11 points in the regular standings.  They are currently in 12th place, just 2 points from a playoff seed; however, they are 9 points behind Atlas in the relegation battle.  Queretaro knows that Atlas is having a memorable season, therefore it will be almost impossible to catch them in points.  Fortunately for them, San Luis is having their worst season in years (2 points), and if Queretaro keeps on making points while San Luis does not, then San Luis could become this year's relegation loser.  Like Atlas, San Luis is 9 points in front of Queretaro in the percentage table.
Xolos Tijuana vs Queretaro Prediction
Xoloitzcuintles is a top team who is almost invincible at home; little problem is, this Saturday they will most likely play up to 8 reserves as they have to travel 16 hours to Brazil during the week.  That will be no excuse for having a bad game, however, it could ease things up for the visitor.  Gallos Blancos want, and need a win, but the Estadio Caliente's home pressure may be too much for them to obtain all 3 points.  The Xolos Tijuana vs Queretaro Clausura 2013 match will be a difficult contest, but Tijuana has a strong mentality and they will come out victorious 2-1.
Xolos Tijuana vs Queretaro Television
The Xolos Tijuana vs Queretaro match will be televised this Saturday, March 9, 2013 on Univision Deportes at 8:00 PM Eastern.