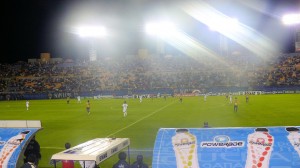 This is the best against the worst; the most disparate match thus far in this Clausura 2013.  Tigres travels to San Luis as the 1st place undefeated team to face the last place team who still has not won this season.
UANL Tigres has had a majestic season in which they have won 6 games and tied 3, with no losses and 21 points.  They are currently in 1st place as the only remaining undefeated team in the league, with a one point advantage over America and Atlas.  To ameliorate their situation, they face the bottom of the table team who has tied 2 and lost 7.
Tigres is ready to earn an extra 3 points in their extraordinary season when they face San Luis; and their fans are too.  It is mentioned that over 20,000 fans from Monterrey will travel to San Luis to support their club.  For safety measures, even the Mexican army will serve as a caravan to protect them in their travel.
San Luis is in danger; and we are not talking of danger of losing their season.  San Luis has had such a bad season that they have tied Club Atlas in the relegation table and now only stands 9 points above last place Queretaro.  As they face the league leaders, it seems that it will almost be impossible to obtain their first win of the season this Saturday.  For their comfort, Queretaro faces the reigning champs, Xolos, 'B' squad.
Tigres vs San Luis Prediction
Tigres is the Liga MX team of the moment, and they have all the tools to get a step closer to the playoffs when they face san Luis.  They are the better team in all aspects, and they even will have a home advantage since 20,000 Tigres fans will travel to the Alfonso Lastras.  San Luis is a disaster and there are no signs that they will survive the 'David v. Goliath' battle this weekend.  The Tigres vs San Luis match will end 3-0 in favor of the 'visitors'.
Tigres vs San Luis Television
The Tigres vs San Luis match will be televised this Saturday, March 9, 2013 on Univision Deportes at 10:00 PM Eastern.