The Santos vs Atlante Liga MX 2013 Week 10 match will be this Saturday, March 9, 2013 (8:00 PM EDT) at the Estadio TSM Laguna. Santos Laguna has a good opportunity to maintain their good form when they receive a weak Atlante.  Santos is a team that is returning to their top performances, while Atlante has yet to find offensive productivity and its style.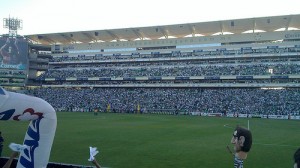 Santos has not lost during it past 3 games, in which they have won 2 and ties 1.  This has allowed them to jump several positions in the regular standings all the way into 6th place with 15 points.  A win this Saturday could take them up to 4th place and place them closer to the playoffs.  Santos is still not the team that won the title over a year ago, but their performances are improving, and if they remain like that, this could be a title contending team.
Atlante is boring, they lack style, goals, quality, and points.  This is a team that has not been a real Liga MX playoff contender for some years now, and all signs point that this will remain at least for this season.  Therefore, the team led by coach Daniel Guzman cannot think of winning games to apply for this season's playoffs, but rather to leave the bottom ranks of the relegation table once next year begins.
Santos vs Atlante Prediction
Santos is returning to the elite team it was just a few seasons ago.  They are winning and playing more aggressively, and another performance like this against Atlante will give them 3 points.  On the other side, Atlante has been consistently boring this Clausura 2013, and as a lower table team, they do not have what it takes to defeat Santos at the TSM.  The Santos vs Atlante match will end 2-0 in favor of the home team.
Santos vs Atlante Television
The Santos vs Atlante match will be televised this Saturday, March 9, 2013 on Univision Deportes 2 at 8:00 PM Eastern.