The Cruz Azul vs Jaguares Liga MX 2013 match will be this Saturday, March 9, 2013 (6:00 PM EDT) at the Estadio Azul. Both Cruz Azul and Jaguares have been struggling this season, and desperately need to earn some points. The key difference between the two, is that Cruz Azul can still make the playoffs, while Jaguares is done.
Last week, America crushed Cruz Azul 3-0 at the Estadio Azteca, easily winning this Mexico City derby, also known as the "Clasico joven". This made it Cruz Azul's third straight defeat in the Liga MX, a sorry sight after having stayed undefeated the first 6 weeks. Cruz Azul currently sits in 13th place with just 10 points.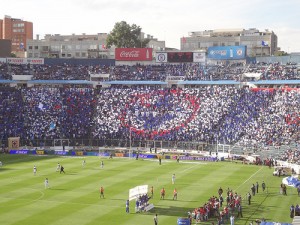 Not defeating Jaguares at the Estadio Azul could very well mean the end of the season for Cruz Azul. Jaguares is the second worst team in the Liga MX, and being unable to defeat them at home would be a demoralizing blow. Furthermore, it would push Cruz Azul further away from the playoff spots (it's already 3 points behind the 8th placed team).
Jaguares has been pathetic this season, just 1 win, 2 draws and 6 losses, for a total of 5 points. Any playoff hopes are pretty much gone by now. Furthermore, this team has allowed 18 goals in 9 matches, simply put, a terrible average. Jaguares' only bright point came when they defeated Xolos 2-0 at home, a surprising result they have been unable to replicate anywhere else.
To further complicate things for Jaguares, their away record is terrible: 3 losses and just 1 draw against relegation candidate Queretaro. I don't believe Jaguares has what it takes to come out of the Estadio Azul with a positive result.
Cruz Azul vs Jaguares Prediction
The Cruz Azul vs Jaguares match should be interesting, both teams will look for the win and should open up play in doing so.  The Cruz Azul vs Jaguares match will end in a 2-1 win for Cruz Azul, Cruz Azul hasn't been playing well lately, but Jaguares is way worse. Cruz Azul wins and ends its 3 game losing streak.
Cruz Azul vs Jaguares Television
The Cruz Azul vs Jaguares 2013 match will be televised this Saturday, March 9, 2013 on Azteca America at 6:00 PM Eastern.