View the America 1-1 Morelia highlights here.
The America vs Morelia Liga MX 2013 match will be this Friday, March 8, 2013 (8:30 PM EDT) at the Estadio Morelos. America is one of the top teams in the Liga MX, and wants to maintain its winning ways- Morelia has been solid and needs a win to remain near the playoff spots.
Last week, America crushed Cruz Azul 3-0 at the Estadio Azteca, easily winning this Mexico City derby, also known as the "Clasico joven". This win puts Club America in 3rd place with 19 points, and confirms its status as a solid contender for the Liga MX Title.
Another important takeaway from Club America's win over Cruz Azul, is that Chucho Benitez scored all 3 goals. This means that America now has 2 players that are banging in the goals, Raul Jimenez and Benitez.  America's powerful offense (thanks to the help of those two) has scored 19 goals in just 9 matches.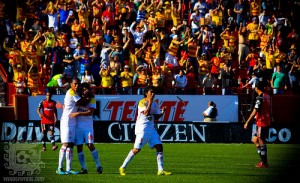 However, it's not all good for America going into the "Clasico de las televisoras" (TV station classic: Televisa owns America and TV Azteca owns Morelia). America lost its midweek Copa MX match against Neza at the Estadio Azteca. Even though the loss had no effect on America's Copa MX standings, it was still an embarrassing home loss. All players want to follow this up with an away win at Morelia.
Morelia is currently sitting in 10th place with 12 points, thanks to its decent results: 3 wins, 3 draws, and 3 losses. Last week, Morelia visited league-leading Tigres and came out with a draw: a good result. Morelia does have a great stat in their favor, they are undefeated at home this season. America will surely try to break this streak
America vs Morelia Prediction
The America vs Morelia match, or the 'tv station classic' will feature a Morelia that needs to win to stay near the playoff spots, and an America that always looks for the win. America is coming off a great home win versus Cruz Azul, and wants to maintain the momentum.  The America vs Morelia match will end in a 1-1 draw, America has been playing well, but Morelia is a very difficult opponent at home.
America vs Morelia Television
The America vs Morelia 2013 match will be televised this Friday, March 8, 2013 on Azteca America at 8:30 PM Eastern.