The Xolos vs Corinthians Copa Libertadores 2013 match will be this Wednesday, March 6, 2013 (8:00 PM EDT) at the Estadio Caliente in Tijuana. Xolos and Corinthians (Brazil) will play their 3rd match in this Libertadores tournament. They are part of Group 5 which also includes Millonarios (COL) and San Jose de Oruro (BOL); the top two teams qualify into the next round.
Xolos has had a bit of a decline in the Liga MX recently, losing 3 out of its last 4 Liga MX matches. However, this has been due to El Turco's decision: Xolos is 100% focused on the Copa Libertadores. This focus has worked so far. Xolos has been perfect after 2 games in the Copa Libertadores, defeateing Millonarios (1-0) and San Jose (4-0). A home win against Corinthians would be a huge step in qualifying Xolos to the knockout stages of the Copa Libertadores.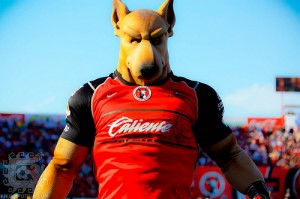 Corinthians recently tied their match against fierce Brasileirao rivals, Santos, 0-0 in their domestic league. They have traveled to the northern most part of Latin America (16 hour flight) and will likely be tired. Furthermore, they will have issues adjusting to the synthetic field of the Estadio Caliente. Nonetheless, Corinthians is an elite team, with an outstanding history, and all-star players.
Corinthians knows how to handle adversity well. They travelled to San Jose in Bolivia, the highest stadium in Latina America, and came out with a 1-1. They hosted Millonarios in an empty home stadium (due to a stadium ban caused by fan violence) and came out with a win. They went to Japan, and defeated European superpower Chelsea, to earn the world title. Corinthians is used to handle adversities.
Xolos vs Corinthians Prediction
The Xolos vs Corinthians match is the most anticipated match in Group 5. These 2 teams are the favorites to be in the next round, and after 2 games they have shown to be the best in the group. Club Tijuana has the advantage due to playing at home, but Corinthians has a more talented squad. This is a good match that could go either way, but Tijuana will demonstrate that travelling to Tijuana is no easy task, even for the world champions. The Xolos vs Corinthians 2013 match will end 2-1 in favor of the Mexican team.
Xolos vs Corinthians Television
The Xolos vs Corinthians match will be televised LIVE this Wednesday, March 6, 2013 on Fox Deportes at 8:00 PM Eastern.