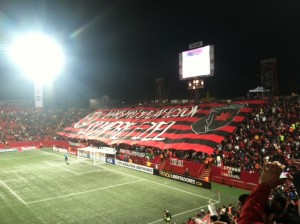 The Xolos Tijuana vs Corinthians Copa Libertadores 2013 match will be this Wednesday, March 6, 2013 (8:00 PM EDT) at the Estadio Caliente in Tijuana.  Xolos (MEX) and Corinthians (BRA) will play their 3rd match in this Libertadores tournament.  They are part of Group 5 which also includes Millonarios (COL) and San Jose de Oruro (BOL); the top two teams qualify into the next round.
Xolos Tijuana has been one of the strongest teams in Mexico for the past couple of seasons.  They have been to the Liga MX playoffs twice, recently won the Apertura 2012, are currently in a playoff seed, and are in first place of Group 5 in the Copa Libertadores 2013.  Club Tijuana has done many things right, the most being that it is a team of players, and not stars.  On Wednesday they will face the toughest team in the Libertadores when they host Corinthians from Brazil.  Corinthians won last year's tournament, and recently became world champions in December when they defeated Chelsea.
The match all Xolos fans have been waiting for is around the corner, and with an Estadio Caliente that will be as loud as ever, the match between two great teams will give us a great spectacle.  Xolos has been perfect after 2 games in which they defeated Millonarios (1-0) and San Jose (4-0); therefore a 3rd straight win against Corinthians will open them the doors into the next round.
The team from Sao Paulo recently tied their match against fierce Brasileirao rivals, Santos, 0-0 in their domestic league.  They are tired from a 16 hour flight into the northernmost part of Latin America, and are also curious into how their playing style will shape in Tijuana's synthetic field.  Nonetheless, Corinthians is an elite team, with an outstanding history, and all-star players.  They know that it will be no easy task to defeat Xolos at home, but if they play like the world champions just a couple of months ago, they will give Xolos a difficult job.
Xolos Tijuana vs Corinthians Prediction
Xolos and Corinthians will play the most anticipated match in Group 5.  These 2 squads are the favorites to be in the next round, and after 2 games they have shown to be the best in the group.  Club Tijuana has the advantage in terms of home field advantage, but Corinthians has a more talented squad.  This is a good match that could go both ways, but Xolos will show that travelling to Tijuana is no easy task, even for the world champions.  The Xolos Tijuana vs Corinthians 2013 match will end 2-1 in favor of the Mexican team.
Xolos Tijuana vs Corinthians Television
The Xolos Tijuana vs Corinthians match will be televised LIVE this Wednesday, March 6, 2013 on Fox Deportes at 8:00 PM Eastern.