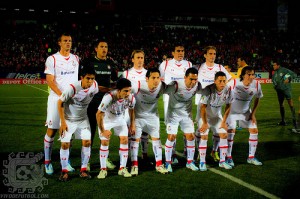 The Toluca vs Barcelona Copa Libertadores 2013 match will be this Wednesday, March 6, 2013 (8:00 PM EDT) at the Estadio Nemesio Diez in Toluca.  Toluca (MEX) and Barcelona (ECU) will play their 3rd match in this Libertadores tournament.  They are part of Group 1 which also includes Boca Juniors (ARG) and Nacional (URU); the top two teams qualify into the next round.
Toluca is 2nd in Group 1 with 3 points; a win against Boca and a loss against Nacional.  On Wednesday they receive Barcelona of Guayaquil who is last in the group, but who still has a chance to pass into the next round with a win.  Toluca has played in good form lately, but they still have problems on defense, which was the case when they lost against Nacional.  If the 'diablos rojos' play with a strong midfield, then they will be capable of styling a counter-attacking system which will cause serious problems to the team from Ecuador.
Barcelona is urged to obtain their first win during the Copa Libertadores 2013.  Since they only have 1 point after two matches, a loss will place them close to elimination.  This is a team that has suffered since Narciso Mina's transfer to Club America, as they have been weak on offensive productivity.  Barcelona faces a serious task on Wednesday against a top Mexican club; anything other than a win puts their tournament in great jeopardy.
Toluca vs Barcelona Prediction
Toluca has been a rollercoaster team throughout this 2013 year.  In the Liga MX they are mid-table with a couple of good displays of late, while in the Libertadores they defeated Boca Juniors in Argentina, but surprisingly lost to Nacional at home.  Barcelona has been in weak form, and another loss on Wednesday would mark them as a disappointment.  The Toluca vs Barcelona match will end 1-0 in favor of the Mexican team.
Toluca vs Barcelona Television
The Toluca vs Barcelona match will be televised LIVE this Wednesday, March 6, 2013 on Fox Deportes at 10:00 PM Eastern.