The Chivas vs Pumas Liga MX 2013 match will be this Sunday, March 3, 2013 (1:00 PM EDT) at the Estadio Olimpico Universitario in Mexico City. Chivas and Pumas are just 1 point apart in the standings, they both know that a good result here could go a long way in helping their playoff opportunities.
Chivas hasn't lost since Week 2, and has won 2 out of its last 3 matches. Although this squad has been unspectacular, they are solid and tough to beat. Chivas has scored just 8 goals, and its defense has been decent, allowing 1 goal per game. Overall, this Chivas squad could make a run in the playoffs if it finds a way to activate its powerful offense.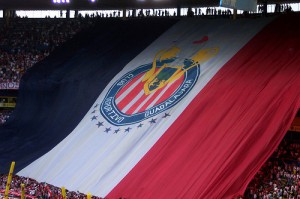 Pumas is also experiencing a good streak, having won its last 2 matches. Although the team is quite modest in the offense, the defense has been spectacular, allowing only 6 goals so far. Torres Servin has done a good job stabilizing this team after the disastrous previous season. The defense is playing well, and the rest of the team is benefiting due to it.
Both teams share the fact that they have solid defenses, and anemic scoring. This probably points to a low-scoring game. Furthermore, due to the proximity in the standings, neither team will want to risk a loss, and are thus more likely to play conservatively.
Chivas vs Pumas Prediction
The Chivas vs Pumas match will be a high intensity match between two historic rivals with huge fan-bases. C.U. will be rocking. Chivas has proven to be extremely difficult to defeat, and Pumas has shown that their defense in extremely solid. Expect a tight game with few scoring opportunities, which is likely to end in a draw.  In the end, the Chivas vs Pumas match will end in a 0-0 draw that bores the fans, but provides to be a good result for both teams.
Chivas vs Pumas Television
The Chivas vs Pumas 2013 match will be televised this Saturday, March 3, 2013 on Univision at 1:00 PM Eastern.