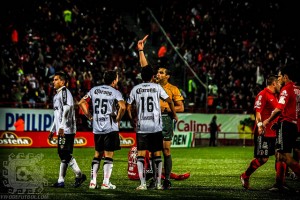 The Atlas vs Xolos Tijuana Liga MX 2013 match will be this Sunday, March 2, 2013 (8:00 PM EDT) at the Estadio Jalisco. Club Atlas and Xolos of Tijuana face each other in a match between two Liga MX top teams.  Atlas is still on relegation talks but a win will turn the focus into the playoffs.  Club Tijuana is focused on the Copa Libertadores 2013 and will play with their 'B' squad, but they have shown that they will be no easy rival.
When Atlas receives the reigning champs on Saturday night, they will be playing for the league's 2nd place spot.  In 3 matches, Atlas has not been able to defeat Xolos who they have tied twice, and lost once.  The 'rojinegros' come into this match with a surprising 17 points which has them on 2nd place in the standings.  The team lead by Tomas Boy has been successful due to its strong defense, balanced midfield, and most importantly an efficient offense lead by veteran Omar Bravo.
Xolos of Tijuana won its last game at home 2-0 against Atlante in a match where Tijuana played with reserves.  As they focus on the Libertadores, this team will use bench players in order to give the starters breathing room with the idea of running deep into the international competition.  Nonetheless, Xolos has been very successful this Clausura 2013 as they are tied for 3rd place with 16 points and a loss would not destroy their run into the playoffs.
Atlas vs Xolos Tijuana Prediction
Atlas obtained 1 point last week against relegation rivals Queretaro when they tied 0-0.  This week against Xolos 'B', they will attempt to earn another 3 points in order to put an end to relegation talks and focus deeply on the playoffs.  Xolos will play with an alternate squad, but that does not mean they will be an easy opponent as just last week they defeated Atlante with their bench players.  A must watch game of the week will see a 1-1 tie in the Atlas vs Xolos Tijuana match.
Atlas vs Xolos Tijuana Television
The Atlas vs Xolos Tijuana 2013 match will be televised this Saturday, March 2, 2013 on Univision Deportes at 10:00 PM Eastern.