The Santos vs Jaguares Liga MX 2013 match will be this Friday, March 1, 2013 (8:30 PM EDT) at the Estadio Victor Manuel Reyna in Chiapas. This Week 9 Liga MX match features a resurgent Santos against a Jaguares club that is second-worst in the league.
In it's last two matches, Santos played at Tigres (#1 in standings) and hosted America (#3 in standings), and came out of them with 4 points– quite an accomplishment. It looks as though Caixinha has finally found the formula to make his talented squad play well. The matches against Tigres (1-1 draw) and America (1-0 win) were perfectly played by Santos.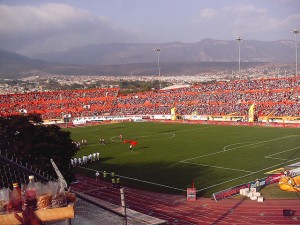 Due to the recent string of good results, Santos now sits in the 6th spot with 12 points earned; given that the Liga MX is at it halfway point, it is not a bad place to be in. Santos has had an outstanding defense, allowing just 5 goals in those 8 matches. However, the offense has been greatly disappointing, averaging just 1 goal per game.
Profe Cruz' Jaguares is, for yet another season, a disappointing mess. The team has only won 1 match, lost 5, and tied 2; Jaguares has allowed 15 goals and scored only 9. The only positive point, is that Jaguares won its last home game, defeating defending Liga MX champion Xolos 2-0. Unfortunately, Jaguares followed that win up with a 2-1 away loss at Toluca.
Will Profe Cruz be able to motivate his players at home, and come out with a badly needed win against a red-hot Santos? Or it is more likely that a loss here means El Profe Cruz' time at Jaguares is over?
Santos vs Jaguares Prediction
The Santos vs Jaguares match is the only game scheduled for Friday, and it should provide to be an interesting encounter. Jaguares is desperate to win, and a loss could potentially end Cruz' tenure at Jaguares. Santos is on a hot streak, having played its last 2 games against the best teams in the Liga MX and coming out undefeated.  The Santos vs Jaguares match will end in a 1-0 away for Santos, Santos has simply been playing too well.
Santos vs Jaguares Television
The Santos vs Jaguares 2013 match will be televised this Friday, March 1, 2013 on Azteca America at 8:30 PM Eastern.