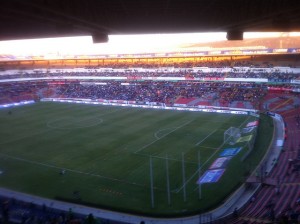 The Queretaro vs Atlas Liga MX 2013 match will be this Saturday, February 23, 2013 (6:00 PM EDT) at the Estadio Corregidora.   As Week 8's must watch game, Atlas and Queretaro match up in a direct battle of relegation.  Club Atlas has had a fantastic start to the season with 16 points, and another win against Queretaro would seal the deal half-way through the season and force Gallos Blancos back into the Ascenso MX.
Gallos Blancos is in last place of the percentage table (0.9457), and they are in dire need of winning 3 points against their closest relegation rivals, Club Atlas (1.0435).  Atlas is currently 9 points above Queretaro, and a win by the 'rojinegros' would put them well above the necessary points to remain in the first division.
Queretaro comes into this game in a whole different setting than Atlas.  They have had a struggling start to the season in which after 7 games they have only obtained 7 points and remain in 13th place.  Atlas is dreaming, and they have 16 points and a tie will put them in 2nd place while a win may have them as the league leaders.
Atlas knows this game is a direct battle of relegation, however, they are not thinking about that anymore.  They will play this game with the knowledge that a win will put them in the top-2 positions of the league, but most importantly, closer to a playoff seed.  As for Gallos Blancos, a win is still not a step towards the playoffs; all indicates that they are the team set for demotion.
Queretaro vs Atlas Prediction
This is the game of the week, and nonetheless it will play out to be the best game of Week 8.  Queretaro has the support of its stadium which will be in its best atmosphere ever. Atlas comes into this one with its wings high up in the air, but Queretaro plays for its life.  Queretaro will be outstanding, and the game will go for them.  The Queretaro vs Atlas match will end in an amazing 2-1 win for Queretaro.
Queretaro vs Atlas Television
The Queretaro vs Atlas 2013 match will be televised this Saturday, February 23, 2013 on Univision Deportes at 6:00 PM Eastern.