View the Xolos 2-0 Atlante highlights here.
The Xolos Tijuana vs Atlante Liga MX 2013 match will take place this Saturday, February 23, 2013 (10:00 PM EDT) at the Estadio Caliente in Tijuana.  Xolos will be playing with an alternate squad, and Atlante will be looking to take advantage of that.
In the Liga MX, Xolos is on a 3-game win less streak: an away draw at Tigres, an embarrassing loss at home against America, and an away loss (also embarrassing) against Jaguares. However, El Turco's squad redeemed itself with a historic away victory in the Copa Libertadores, defeating Millonarios 1-0 in Bogota. Xolos played its classic style: tough defense and lethal counterattacking, and got the 3 points against the Colombian champion.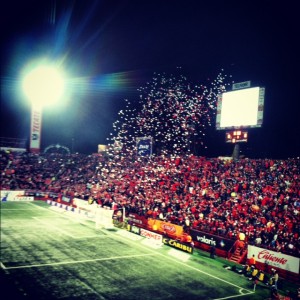 Xolos ownership has stated several times that the Copa Libertadores is this semester's main focus, thus, El Turco has announced that against Atlante, Xolos will use an alternate squad. Xolos has a home match in the Copa Libertadores next Tuesday, against Bolivian squad San Jose.
Expect to see players like Greg Garza, Raul Nava, Raul Enriquez, Joshua Abrego, etc. to make an appearance on Saturday. The key players will be rested for the match against San Jose. The question is, can this alternate squad play well enough in front of its home crowd to come away with the victory over Atlante?
Atlante has had a rough start to the season, winning just 2 games, losing 4, and getting 1 draw. Atlante has lost all 3 of its away games, allowing 8 goals in those three matches, and scoring just once. Overall, this team is absolutely terrible when traveling, and going to Tijuana is as far as you can travel in the Liga MX.
Xolos Tijuana vs Atlante Prediction
The Xolos Tijuana vs Atlante match will be quite interesting, Xolos will be fielding a set of players that usually don't get a chance, and are thus looking to make an impression. Atlante has been terrible in away games, and would probably be happy with a draw. In the end, I believe a combination of Atlante's terrible away record, and the difficulty that the Estadio Caliente represents will be too much. The Xolos Tijuana vs Atlante match will end in a 2-1 victory for the home team.
Xolos Tijuana vs Atlante Television
The Xolos Tijuana vs Atlante 2013 match will be televised this  Saturday, February 23, 2013 on Galavision at 10:00 PM Eastern.