View the Pumas 2-0 San Luis highlights here.
The Pumas vs San Luis match will have San Luis host Pumas on Saturday, February 23, 2013 at the Estadio Alfonso Lastras at 7:00 PM PST. Both teams are looking for win, and this should provide an exciting match.
Pumas, a great opportunity to get 3 points
Pumas could not have a better chance to obtain three points, than against this week's match versus San Luis. Pumas will have to make use of their best players and prove once and for all that they can score. Bravo has to bring up his game and move the team forward. Luis Garcia and Robin Ramirez are clearly having trouble adapting, but they still need to get minutes in order to get better.
Pumas need to get the three points in order to get closer to the post-season positions. Most importantly, they need to work in scoring, since they have won a couple of games only by just a goal, their goals have decreased since they were champions last time. This is something that should have Torres Servin working on at every training session.
San Luis, new coach, new perspective
San Luis comes to this match at their worst, with only 2 draws and 5 losses. This is the worst version of a San Luis that perhaps has never been a main character in the league, but has had decent seasons prior to this one.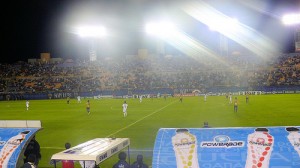 San Luis will not count with Villaluz, a player that appears to be the one that gives speed and passes through the sides. San Luis will have to lean on Matos up front and Oscar Perez as goalkeeper as their main players. This will be the debut of Carlos Morales as coach for San Luis after Fentanes was cut out of the team.
Pumas vs San Luis Prediction
The Pumas vs San Luis match will be entertaining, as both teams are looking to win. Pumas has the long end of the stick on this match, however; they have to use the advantage they have in theory to get the 3 points. The qualification is still in their hands. San Luis will play under a new scheme; it will be a good time for their new coach what he counts on. I predict the Pumas vs San Luis match will end in a 2-0 win for Pumas.
Pumas vs San Luis Television
The Pumas vs San Luis match will be televised on Univision Deportes this Saturday, February 23, 2013 at 7:00 PM PST.