View the Cruz Azul 1-2 Tigres highlights here.
The Cruz Azul vs Tigres Liga MX 2013 match will take place this Saturday, February 23, 2013 (6:00 PM EDT) at the Estadio Azul in Mexico City. This match features a Cruz Azul squad that has been solid, yet unspectacular, and a league-leading Tigres that is still undefeated.
Cruz Azul lost its undefeated status last week when they lost 2-1 at Pachuca, in a match where they looked atrocious. Overall, Cruz Azul has been solid this season, but has been struggling to win games, winning just 2 matches out of 7 played so far. Cruz Azul's defense is definitely an issue, they have allowed 10 goals in those 7 matches so far.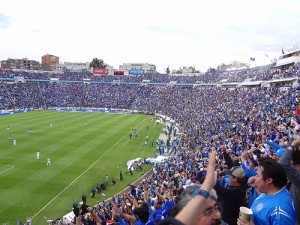 On the other side of the pitch, Tigres is red-hot, still undefeated after 7 Liga MX matches, winning 5 out of those matches.  Tuca Ferreti is coaching his team well, the offense is clicking and the defense is outstanding  Tigres leads the league in scoring, with 16 goals, and also in defense, having allowed just 5 goals. Overall, this team is outstanding and a solid contender for the title.
Part of Tigres' success is due to the outstanding performance from striker Tito Villa, who leads the league's scoring with 6 goals. Lucas Lobos follows him closely with 4 goals of his own. Overall, this Tigres squad possesses what can arguable be described as the best roster in the Liga MX.
Cruz Azul vs Tigres Prediction
The Cruz Azul vs Tigres match will be entertaining, Cruz Azul is undefeated at home, and Tigres is undefeated everywhere. However, Tigres has been better this season, while Cruz Azul has been solid, and not much more. I expect both teams will not risk too much on the attack, and should be satisfied with a draw. The Cruz Azul vs Tigres match will end in a 1-1 draw.
Cruz Azul vs Tigres Television
The Cruz Azul vs Tigres 2013 match will be televised this  Saturday, February 23, 2013 on Azteca America at 6:00 PM Eastern.