View the Atlas 0-0 Queretaro highlights here.
The Atlas vs Queretaro Liga MX 2013 match will take place this Saturday, February 23, 2013 (6:00 PM EDT) at the Estadio La Corregidora in Queretaro.  One of these two teams will be relegated by the end of the season, it is likely the biggest game either will play this Clausura 2013.
Queretaro is currently trailing Atlas by 9 points in the relegation table, a loss at home against Atlas on Saturday would be devastating. It would put 12 points in between Atlas and Queretaro, with just 9 games left to play, a gap too big to make up. A draw is basically the same situation, too many points to make up. If Queretaro wants a shot at staying in the Liga MX, it must defeat Atlas, it would cut their lead down to 6 points- a manageable amount.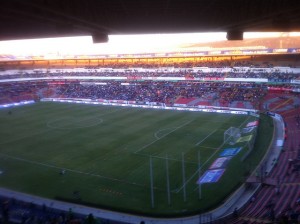 However, Queretaro has not been playing well enough to make it seem like they have a decent shot at defeating Atlas. This season, they have only won 1 match, tied 4 and lost 2, scoring just 7 goals, while allowing 11. They're already on their second coach of the season, and the team simply doesn't appear to find its way.
Atlas has been having one of their best season starts in years, winning 5 matches, and getting 1 draw and just 1 loss. The offense has scored 11 goals while the defense has only allowed 6. Even Omar Bravo, a player many thought had little left in the tank, has come up big, scoring 4 goals so far. This team is playing like it wants to stay in the Liga MX.
Atlas has won 4 matches in a row, and shows no signs of slowing down. Each game is played with a passion that is unseen in most Liga MX teams, each goal is celebrated like a World Cup goal. Tomas Boy has done an excellent job with this modest team; it's not only looking like Atlas will avoid relegation, but also take part in the Liga MX playoffs (this could be a story 50 years in the making).
Atlas vs Queretaro Prediction
The Atlas vs Queretaro match will be intense, extra security has been called in to ensure the safety of fans and players, due to the high stakes of the match. Queretaro knows that anything other than a win will doom them to the Ascenso MX- Atlas will use this to their advantage. Expect to see a counterattacking Atlas, while a desperate Queretaro surges forward. The Atlas vs Queretaro match will be an intense game that will end in a 1-1 draw that will be a huge step in saving Atlas from relegation.
Atlas vs Queretaro Television
The Atlas vs Queretaro 2013 match will be televised this  Saturday, February 23, 2013 on Univision Deportes at 6:00 PM Eastern.