The Morelia vs Pachuca Liga MX 2013 match will take place this Friday, February 22, 2013 (8:30 PM EDT) at the Estadio Morelos.  Morelia is coming off an away loss at Pumas, and has overall had a bad start to the season. On the other side of the pitch, Pachuca has won 3 matches in a row and is looking to notch yet another win at Morelia.
Morelia has earned just 8 points through 7 matches, scored 8 goals, and allowed 10- overall a pretty mediocre start. That is why the Morelia ownership decided to release Ruben Omar Romano from the position of head coach. Carlos Bustos will take his spot in the coach's seat.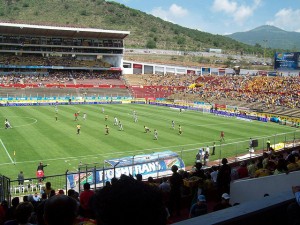 Bustos has limited experience as a head coach, having coached Neza in the Ascenso MX for a little over a year. Morelia will be the first Liga MX team he ever coaches. His choice as replacement for Romano is likely  due to his close relationship with the Morelia ownership: Neza is owned by Morelia, Bustos used to be an assistant coach and player at Morelia as well.
Pachuca, in contrast, is doing quite well in the Liga MX, currently sitting in the 5th spot with 13 points. Pachuca has won its last three games, having allowed just 1 goal, and scoring 4. Pachuca defeated Toluca, Santos and Cruz Azul, three teams that are not very easy to beat. However, all is not so good, Pachuca has scored just 7 goals in 7 matches- it is too dependent on its defense.
Morelia vs Pachuca Prediction
The Morelia vs Pachuca match will be close, Morelia is debuting a new head coach and is looking to start off with a win. Pachuca is on a 3-game winning streak, but is facing a Morelia squad that is undefeated at home. The match will be contested, but I believe both teams will settle with shared points.  The Morelia vs Pachuca will be a close match that will end in a 1-1 draw.
Morelia vs Pachuca Television
The Morelia vs Pachuca 2013 match will be televised this  Friday, February 22, 2013 on Azteca America at 8:30 PM Eastern.