View the America 0-1 Santos highlights here.
The America vs Santos Liga MX 2013 match will take place this Friday, February 22, 2013 (10:30 PM EDT) at the Territorio Santos Modelo.  America is having one of its best season starts in years, and is looking to keep the momentum going. Santos is coming off a good draw at Tigres, and wants to build upon that good result.
America is currently in second place of the Liga MX standings, thanks to the 5 wins, 1 draw and 1 loss it has  accumulated so far. Furthermore, America has won all 4 of its Copa MX matches, already guaranteeing itself a spot in the Copa MX quarterfinals, with 2 group matches still left to play. Miguel Herrera has his team playing in top shape.
Last weekend, America hosted Toluca and were seconds away from adding their 6th Liga MX win of the season. However, a very late goal by Toluca tied the score at 2-2, and left the home fans disappointed with the draw. Now, America must hope to earn an away win at Santos.
America's success is due to their solid defense, which has allowed less than 1 goal per game. However, America's greatest strength is its explosive offense, which has scored 16 goals in 7 matches; Raul Jimenez leads the team's scoring with 5 goals, Benitez follows with 3.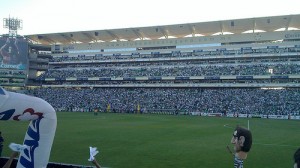 Santos have earned 9 points in seven matches, and currently find themselves in 8th place.  Last week, Santos visited Tigres in Monterrey, and came out with a good result: a 1-1 draw at the home of the only undefeated team left in the Liga MX.
Santos has even better news, coach Caixinha has confirmed that Oribe Peralta will return to the starting lineup. It's hoped that he will add badly needed offensive firepower to Santos. Oribe Peralta has scored 4 out of the 7 goals Santos has scored all season long.
America vs Santos Prediction
The America vs Santos match will be intense, the TSM will be packed, and the entire soccer media will be focused on this match. Santos wants to build upon the draw at Tigres with a home win over America. Herrera wants to continue to see his team performing at a top level.  The America vs Santos will be a close match that will end in a 1-1 draw.
America vs Santos Television
The America vs Santos 2013 match will be televised this  Friday, February 22, 2013 on Univision Deportes at 10:30 PM Eastern.