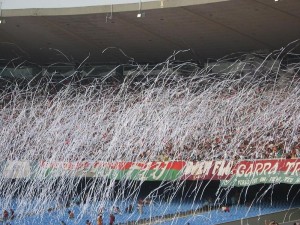 The Fluminense vs Gremio Copa Libertadores 2013 match will be this Wednesday, February 20, 2013 (8:00 PM EDT) at the Estadio Olímpico Joao Havelange.  Fluminense (BRA) and Gremio (BRA) will play their second game during the group stages of the Copa Libertadores 2013.  They are part of Group 8 which also includes Huachipato (CHI) and Caracas (VEN); the top two teams will advance to the final-16.
Fluminense has a real opportunity at gaining control of group 8 when they face Gremio.  Fluminense won their first game 1-0 against Caracas, and on Wednesday they play on their home turf with the knowledge that defeating Gremio will leave them with 6 points and closer to a qualification into the next round.  The 'Flu' is one of the favorites to go far into this Copa Libertadores 2013 as they are the reigning champs of the Brasileirao.
Unlike Fluminense, Gremio is desperate to obtain a win; this after losing their first match against Huachipato 2-1.  Another loss will jeopardize their access into the Final-16 round, therefore Gremio will go into Fluminense's home with the sole purpose of obtaining the 3 points.
Fluminense vs Gremio Prediction
Fluminense was not spectacular by any means in their first match against Caracas, however they play well enough to leave Venezuela with the 3 points.  On the other hand, Gremio had a bad game against Huachipato and lost their first game.  The match between Gremio and Fluminense will be much divided, and Gremio cannot afford another loss.  The Fluminense vs Gremio match will end in a 1-1 draw.
Fluminense vs Gremio Television
The Fluminense vs Gremio 2013 match will be televised DELAYED this Thursday, February 21, 2013 on Fox Deportes at 2:00 AM Eastern.  Original game is on Wednesday at 8:00 PM EDT.